3 tips for buying your first car with Lucas Scarfone
By Kijiji Autos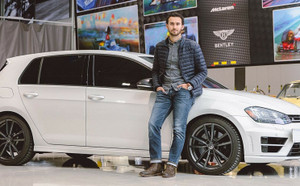 You've saved up for years and now it's finally time. No more asking Mom & Dad for a ride, no more bus tickets and no more bicycle. It's time for you to pick out your first car. But where do you even start?
I was in the same scenario not too long ago. Like most first time car buyers, I was young and wasn't exactly rolling with a huge budget, but on top of that, I was also a lifetime automotive enthusiast so I was looking for something with some performance. Not everyone might be as into the automotive world as myself, but I think a lot of young people struggle with the same challenge – what can they afford that has some cool factor.
How to buy your first car
I started out by considering what my unique needs were and went from there. As a working automotive photographer, my first car needed to have ample cargo space to fit all of my camera gear and prints. The side of me that prioritizes performance immediately ruled out a van or large SUV, how could I carve up the back roads in something built to get to hockey practice? This left the perfect compromise, a hatchback.
My strategy when buying my first car was to get something brand new and reliable with a warranty, this would make sure I could make it to all my shoots on time without having to worry about if my car would start. My top options based on my budget at the time were the Nissan Versa, Toyota Matrix and Volkswagen Golf. I preferred the look and feel of the Golf, but at the higher end of my budget, I decided that the Toyota Matrix was a good compromise for the price and it had a great reputation for reliability.
This is what worked for me, but it's different for everyone. As someone who spends a lot of time around cars, a lot of my friends ask me my opinion on how to go about buying a first car they are proud to drive. This is what I always ask that they consider:
How much car can I afford?
Sure, most people would love a new Ferrari 488 Spider for their first car, but unfortunately, for those my age, it's typically not in the cards financially. If you have a set budget in mind, you'd actually be surprised by what interesting cars are available with a little bit of research.
Which type of car is best? 
Do you plan on using your car for camping trips or to help your friends move? Or do you just need something with 4 wheels to get you to school and back? What you are going to use your car for is one of the best things to help you narrow down your search. For me, I had to consider my photography job and equipment.
How long should you keep your first car?
How long are you planning on keeping your first car? Knowing this may help you refine your search. In my case, I knew I wouldn't be buying anything else for a while, so I wanted to go for a new model. This will depend a lot on your budget but it's important to consider whether you'd prefer lower kilometers if you plan on having the car for a long time, vs. an older model with higher kilometers if you know you'll be looking to upgrade within a few years.
Buying a vehicle, let alone your very first one, can be overwhelming and challenging, but this is where Kijiji Autos comes to the rescue. With hundreds of thousands of new cars available nationwide, including my very own first car, the Toyota Matrix, you can be sure you'll find a wide variety of vehicle listings that can fit any budget!
Easily find your next ride on Kijiji Autos
Search now