5 Affordable used cars to consider
By Kijiji Autos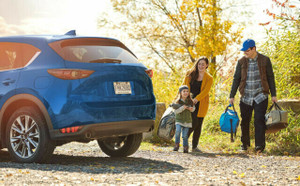 It's possible to find cars that cost next to nothing, but they're not always the most reliable and are rarely what you'd call sound investments. Here are five models recommended by U.S. magazine Consumer Reports that may be worth taking a look at.
Mazda 3 (2008 and later) 
The Mazda 3 is without question one of the most popular cars. This small, sporty model delivers what most buyers want: it's reliable, fairly fuel efficient and fun to drive, and it offers a well-finished interior. Its seats are comfortable, front and back, and its cargo space is more than adequate. If you're thinking of buying a used Mazda 3, I strongly recommend that you focus on models not older than 2008. The pre-2008 models have a serious rust problem, which was largely solved in models produced in 2008 and beyond. You'll find plenty of 2008 to 2013 Mazda 3 models at prices that vary between $3,000 and $15,000.
Pontiac Vibe (2005-2009)
The Pontiac Vibe, also marketed as the Toyota Matrix, was the product of a partnership between General Motors and Toyota. It was sold from 2003 to 2009 (when GM dismantled its Pontiac division) and came in two versions: the Vibe and the Vibe GT. The Vibe GT was equipped with a powerful 158 hp engine, compared to the regular Vibe's 132 hp, and it offered the option of all-wheel drive. The Vibe is spacious and fun to drive. I owned a 2003 model and loved it–I'm not exaggerating when I say that my Vibe was one of the most reliable cars I've owned. You can still find a few 2008 and 2009 Pontiac Vibes at prices between $3,500 and $10,000.
Honda Civic (2008-2014)
For the past 17 years, the Honda Civic has been the best-selling car in Canada. It's very reliable and carries a high resale value. The Civic is comfortable, fun to drive and available as a two-door coupe or four-door sedan. Its interior is nicely finished and its passenger compartment is spacious, as is its trunk. The Honda Civic is a smart choice, although it tends to be more expensive than its competition. Used Civics are abundant, with models ranging from 2008 to 2013 and prices as low as $3,000 and as high as $20,000.
Kia Soul
The Kia Soul is also enjoying a fair amount of success. Its look may not please everyone, but it has a number of other admirable qualities. It's a pleasure to drive, offers plenty of space and comes fully equipped. I've driven both the electric and gas-powered models, and can assure you that you'll be completely satisfied with either. All you have to do is let its unique look win you over. There are all kinds of used Soul models available, and prices range from $5,000 to $17,000.
Hyundai Elantra (2013-2014)
The Hyundai Elantra is another very attractive option. It comes well-equipped and at a reasonable price. In 2013 and 2014, it was available in three versions: a two-door coupe, a four-door sedan, and a five-door hatchback (GT). It has a first-rate exterior and a beautifully finished interior. There are lots of used Elantras on the market at prices ranging from $9,000 to $18,000.
Easily find your next ride on Kijiji Autos
Search now