5 Gadgets that make driving easier
By Kijiji Autos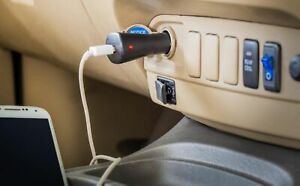 Make your driving experience easier without the stress of being on the road. There are those who don't enjoy driving and get nervous every time they're behind the wheel. You also have those who love to drive and want every new car gadget out there. Cars and technology will always be here, but you don't need to spend a lot of money on the latest trends. This is our roundup of car gadgets that can help you make a car ride smoother.
Car charger
Having a car charger is essential in case there's an emergency with you and your passengers. This handy gadget is a must for parents who can't miss an emergency from the school or directly from their kids. Your workplace might need you to always be on call and available. There are now universal chargers that work with other portable devices, which work out great for kids. They can use their tablets or game consoles during the car ride.
GPS System
A lot of drivers rely on their phones for their GPS tool, but should think long-term since we spend quite a lot of time on the road getting to and from. A phone can freeze or lose connection. A GPS system can help navigate you with a voice that will direct you to your destination. It's great to have if you're lost, taking a different route or when you're traveling. A portable GPS system can range in different sizes and screens. Read the reviews on different brands to find what will work best for you.
Dash Cam
A dash cam can be found at different prices for every budget. Having one can give you evidence if there's been an accident. Some know what it's like when there are no witnesses, which can turn into a huge blame game situation. You could possibly be paying a lot of money for something that didn't happen. Protect yourself by investing in a quality dash cam. There are many different styles and sizes, which can blend in with your vehicle.
Tire Pressure Monitor
A tire pressure monitor is helpful if you're always on the road. It monitors your tire pressure to prevent a flat tire so that it doesn't cause damage to car parts. This will help you save money by prolonging tire life and wear on parts of your vehicle. Look for an easy to install monitor that will work with your vehicle.
Cordless Hand Vacuum
Like our own home, we should also be cleaning our cars. Having a clean car can make driving safely and more enjoyable. There are a lot of cordless portable vacuums with a bag less design, which makes cleaning quick and easy. It's good to have around when seasons can bring in dirt and mud on the car mats. Choose a portable one that will suck up dirt, crumbs, pet hair and liquid. Maintaining a clean car is good for everyone who rides in the car.
Easily find your next ride on Kijiji Autos
Search now