6 steps to picking the best new family car
By Kijiji Autos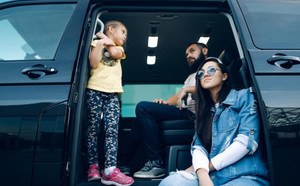 Picking the best car for your clan can be challenging. You don't just have to think about how you'll be using the vehicle, but every other person (or pet) too. To help find the best car for the job, here's our six-step guide.
Step 1: The right shape for the job
Be honest with yourself: what role will the new car play? Hatchbacks (including crossovers and SUVs), wagons, sedans, and minivans are all options for the modern family. Each of these has its own strengths and weaknesses.
Unless you really need the towing capacity and off-road ability, check out a hatchback or wagon over an SUV.
Minivans may have fallen out of favour in the crossover craze, but they remain a smart choice for bigger families. They have easy access to back rows thanks to sliding doors and plenty of interior storage cubbies.
Hatches and wagons, plus car-based crossovers, are strong candidates due to their generous interior spacing and trunk pass-through. They can also double up as load-luggers thanks to fold-down rear seats. Bonus points to wagons for offering great pet-friendly spaces behind the seats, too.
Sedans separate the trunk from the cabin, which can make for fewer distractions. They aren't as pet-friendly as the others on the list, though.
Step 2: Can it store all the family nicknacks?
It doesn't matter which shape you decide on: every family car will become an extension of your house. Prepare for toys to mysteriously find their way into every nook!
Check around the car's interior for all the potential storage spots, including cup holders, overhead compartments and under-seat boxes. Get a good look at the trunk too, not only for its shape but also for how easy it will be to load and unload while keeping an eye on the kids.
If you're packing a lot of gear but need something compact enough to get in and out of the city, take a look at 
Step 3: Safety, safety, safety
There's no such thing as too safe when we're talking about family. Modern cars are safer to drive than they've ever been, but it's still important to check the Insurance Institute for Highway Safety (IIHS) website for crash test results. Pay close attention to side airbags, as they'll be protecting the second row.
If you're planning on using a child seat, bring it on any test drives to see how easily it fits. Most modern cars feature the industry-standard Lower Anchors and Tethers for Children (LATCH) system, which makes it easier to secure a child seat.
Step 4: Take it for a test drive
Numbers on a screen can only tell you so much. Narrow down your options and head to the nearest dealer armed with your research. As we mentioned above, if you have child seats, bring them. Bring the kids too: they'll be spending a lot of time in the back seat, so find out what they think of the potential candidates!
Step 5: Features are king
Electronic driver aids, smartphone integration, advanced remote start features – modern cars blend with our busy lives.
Check any potential new family car for rear door child locks. Built-in entertainment like second- or third-row screens are cool, but you may be better off buying separate items. Backup cameras are now required on all new cars in Canada, which adds an extra layer of safety in parking lots.
Step 6: What can you afford?
This is perhaps the most crucial step: Does your budget allow for the car of your choice? Make sure to factor in not only the purchase, but also the running and servicing costs.
You're now armed with the knowledge to make that new family car purchase. Kijiji Autos offers thousands of new cars that can fit your needs—check out our best family car picks to find what's best for you!
Easily find your next ride on Kijiji Autos
Search now