Canada's top 10 family cars
By Kijiji Autos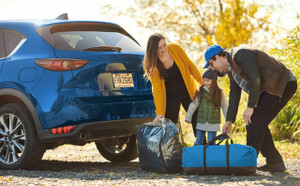 Are you looking for a reliable car that can accommodate your growing family and meet your budget? Check out these popular family cars or electric family cars on Kijiji Autos.
1. Honda CR-V
If size and safety are your main priorities when shopping for a family car, check out the Honda CR-V. It offers all that and more, like a zippy engine and infotainment system. Its size also makes it a perfect city car for the urban family.
Learn more about its extensive safety features on the Honda CR-V overview page.
2. Ford Escape
The Ford Escape checks everything off the list, from interior space and comfort to engine power and towing capacity. This compact SUV fits five comfortably with a ton of cargo room to spare.
Read about its in-car technology at the Ford Escape overview page.
3. Toyota RAV4
The Toyota RAV4 is one of the top-selling SUVs in Canada thanks to its five customizable trims, hybrid engine option and solid reliability. Modern models are loaded with advanced Safety Sense driver aids.
Learn more about how this compact SUV keeps you safe on the Toyota RAV4 overview page. 
4. Hyundai Santa Fe
Drivers love the Hyundai Santa Fe because of its extensive list of standard safety features and spacious cabin that spreads passengers across three comfortable rows. 
Discover more about its touchscreen infotainment system on the Hyundai Santa Fe overview page.
5. Honda Pilot
The full-size Honda Pilot is a popular choice for large families. With up to eight seats and six available trim levels, the Honda Pilot is highly versatile. Safety-conscious drivers are fans of the long list of safety technology and available all-wheel drive.
Find out more about its interior at the Honda Pilot overview page.
6. Dodge Journey
Typical of its brand, the Dodge Journey is a robust SUV that gives passengers a ton of interior space and substantial towing capacity. For families who enjoy long road trips, this seven-seater is an ideal choice.
Read more about its available in-car technology on the Dodge Journey overview page. 
7. Dodge Grand Caravan
This classic family van has gone through many upgrades over the years. Its roomy and versatile interior and nine (nine!) trim levels make this family car suitable for every budget. 
Learn more about its in-car technology at the Dodge Grand Caravan overview page. 
8. Toyota Sienna
The Toyota Sienna has changed the way we see family vans. This high-performance vehicle may seat up to eight, but its swanky interior, technology and impressive engine are a far cry from the soccer mom vans of the past.
Check out the luxury upgrades it has to offer at the Toyota Sienna overview page. 
9. Honda Odyssey
The Honda Odyssey is a popular choice for families who prioritize safety over style. With seating up to eight and a powerful V6 engine, the Honda Odyssey offers plenty to brag about.
Discover its modern interior and many features at the Honda Odyssey overview page.
10. Ford Explorer
This highly popular family car combines power, comfort and fuel economy. With an optional turbo V6 engine, drivers will enjoy the feel of the road while knowing that their family is safe, thanks to its wealth of advanced safety features.
Learn more about its infotainment system at the Ford Explorer overview page. 
If you're in the market for an SUV that is suitable for the Canadian winters, explore the most popular SUVs for winter driving in Canada.
Now you can easily find your next family vehicle with our advanced search options. Looking for an electric vehicle for your family? explore the top electric vehicles for families to help narrow down your search.
Your well-being is our top priority. Consider whether in-person transactions are necessary and visit our Help Desk for more details and guidance. Follow Kijiji Autos' community safety tips for more advice about confidently connecting with dealers or sellers during COVID-19.
Easily find your next ride on Kijiji Autos
Search now