Car pool and ride share safety tips
By Kijiji Autos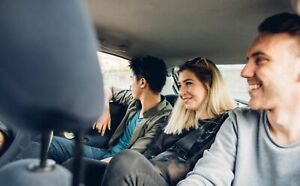 Setting up a ride share or a car pool is a great way to save money, and go a little easier on the environment. The cost of splitting gas between 3 or 4 people is nearly always cheaper than taking a bus, train, plane, or a car alone, and a whole lot more sociable. We've heard from Kijiji users who have made great friends and had great adventures through ride shares.
Going for a drive with strangers has different risks than buying or selling items. As always, go into a transaction looking out for your own safety, and don't do anything that seems unsafe. Here are some tips to having a safe and pleasant ride share experience.
If you can, meet the other people involved in the ride share before hand. If this is not possible, ask for their Facebook profile ahead of time, and the contact info of others participating in the ride share. Take a look at their social networks, google their name if you like, and make sure they seem like someone you would be comfortable on a long drive with.
Get references. Preferably from someone who has ride shared with them in the past. Ask questions that verify that they are who they have presented themselves as to you. If there are any inconsistencies, consider it a red flag.
Take a picture of driver's license and the license plate and email to a friend before you leave. If you feel uncomfortable asking for this information, say something along the lines of "I have a mother who is always worrying about me, she feels much better if she knows who I am with."Make sure someone you trust knows when you will be leaving, and arriving.
Agree on rules for the road. Music preferences, whether food, coffee, smoking, or perfume will be permitted, who will be sitting where – it will cause less tension on the ride if everyone has agreed ahead of time on what is and is not permitted.
Don't give too much information about yourself in your ad. Keep it minimal, listing only the need to know details such as when and where you are going, if there is room for cargo (or you have cargo that needs to be transported), that you are bringing your dog with you, and other trip oriented details that might be make or break for the other parties. Details like your gender and age you can disclose later.
Ask questions about driver, car. Agree on details like cost, payment, and whether any side trips will be permitted beforehand.
Exchange important numbers. Get the main contact details as well as emergency contact numbers beforehand with all who will be travelling with you. You never know when a medical emergency will strike, or if you will need to alter plans at the last minute.
Make sure your phone is fully charged before you leave.
Go with your gut. If the other person says something that makes you uncomfortable, don't go with them. If they put you on edge before you even get in the car, you will likely be in for an unpleasant ride!
Easily find your next ride on Kijiji Autos
Search now