Finding a mechanic you can trust
By Kijiji Autos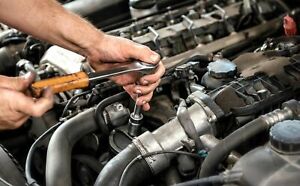 Let's face it, auto mechanics are a lot like lawyers. They're a necessary evil to most of us, but a good one can actually be worth their weight in gold. First off, you don't want to hire one of those ambulance/tow truck chasers you see advertising on billboards and bus stop benches. Often you hear of good mechanics online or from their customers recommending them. Happy customers will gladly tell people about their experience with a particular mechanic, and unhappy customers will too – often more so. To get you on the road to comforting competent car care, here are a few tips on how to find a good mechanic.
Ask Around
The absolute best way to find a reliable, experienced mechanic is to ask people you know. Friends, family, and co-workers are the best place to start. Nearly everyone with a car has used a mechanic at some point, and former customers can tell you first-hand what it's like to deal with a particular auto mechanic. Ask if the repairs were performed correctly. Did they have any further problems with the car once it was repaired? How long did it take the mechanic to perform the repairs? How expensive were they? What did they like about the experience? And finally, ask the person if they would use that mechanic again?
If you're new in town, or your friends, family, or co-workers don't have any recommendations, don't worry. Try asking a professional driver, such as a taxi driver, tow truck driver, or a limo driver. They have to keep their vehicles in good running order, and they'll often tell you not only which auto mechanics are good, but also which ones aren't.
Look on the Internet
Some of the best places to find mechanic recommendations are in car-specific owner forums. A simple web search will give you many. For example, if you drive a Honda Accord, Googling "Honda Accord forum" will give you a list of numerous forums and clubs dedicated only to Honda Accord owners. Post your question(s) on various owner and club forums, and you'll get answers from numerous people. "Car guys" tend to be really particular about their rides, and they're usually glad to share their experiences.
Other good places to look are online classified ad websites. Again, a quick web search will supply you with several. It doesn't matter if the mechanic has a website or not. If they're a legal business, you'll likely be able to find listings for them when you search online. It's also a good idea to read what people have to say about different repair shops. Just because a mechanic has a high rating doesn't mean all of his customers have been happy. To see what people are saying about mechanics in your area, type in something like "auto mechanic ".
Check Out the Shop
Once you've narrowed down a list of potential mechanics, go by and check out their shops in person. A good mechanic is a busy mechanic, so if their shop and lot are full of cars it's a good sign. The shop itself should be relatively clean, organized, and buzzing with work being done. Next, tell the mechanic about your vehicle, ask them what they'd recommend, and how long it'll take them to perform the repairs. If they tell you that it will be a few days before they can even get to it, don't fret. A good mechanic is a busy mechanic, and a good one will be worth waiting on.
Easily find your next ride on Kijiji Autos
Search now