How Esther Lee improved her city commute
By Kijiji Autos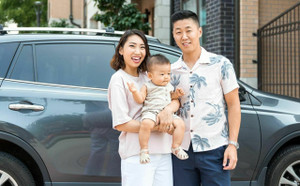 Let me tell you a secret: cars. Yes, you heard me right.
The truth is, I had no clue what the heck I was looking for when my husband and I first began discussing getting one. The most I knew about a car was that it either looked nice or it didn't. Both my husband and I come from families that didn't have fancy cars growing up. In fact, we drove my in-laws banged up white Murano for the longest time before we decided it was time for a little upgrade…well, actually, we had no choice when it basically died on us. We couldn't live without one because of our busy lifestyles and knew we needed one fast! I quickly learnt a lot about what I wanted in a vehicle along the way and I'm here to share my story with you so that you can find your dream car too!
Like many Canadians, commuting is part of daily life. In fact, according to Statistics Canada, the number of Canadians using their car to get to work has increased by 28.3%! This sounds believable to me, because to be honest, I didn't start driving really until I was in my mid-twenties. Before that, I simply "got by". That is, until life starting getting real busy.
During the day, I'm managing my lifestyle blog and new son, and of course, my marriage, friends and family time! Between my husband's social and recreational sports schedule, my events and meetings, and the exploring we both love to do in our city, we knew we had to get one ASAP.
Why brand new
So, why after all those years did we decide to buy a brand new car? One of the most important considerations was that we knew we were going to grow our family soon, so naturally, we were looking for a car that would be safe for many years to come and not need any work in the near future. We wanted a car that would be safe and reliable especially when there was more than just the two of us in there and we needed to ensure that the car itself had a good reputation for this. At this specific point in our lives, we felt the most confident knowing that we would be the first and only drivers of a new car, so ultimately, we went that route in determining to purchase a new car vs. sticking with a used car like we have done in the past.
On top of that, we wanted to make sure that our busy lifestyles weren't going to be interrupted and that we would have access to a car whenever we needed it, especially with a baby on the way. We understood that a car was a long-term investment for us and our growing family, and we wanted to make sure we got the best bang for our buck with something we'd be able to feel safe in for a very long time. So, we began looking for a new car!
Finding a car that fits
After test driving the Toyota Rav 4 at a nearby dealership, we both knew it was exactly what we were looking for and we highly recommend a new compact SUV for other young families, especially if you live in a city where you might not feel confident driving something larger. Since the arrival of our baby, Miles, we've had the convenience of enjoying weekend road trips in Ontario, while exploring gems in our own backyard. We love that our new car makes us feel that we can build new memories in it, and keep continuing to do so with something safe and reliable for our own little family.
If you're in a similar place in your life, Kijiji Autos offers new models on their site, and there over loads of new Toyota Rav4s available just like ours! Of course, if the Toyota Rav4 isn't exactly what you're looking for, there are also thousands of other commute-friendly cars on the site, with top listed models including the Toyota Corolla, Mazda 3, Volkswagen Jetta, Ford Focus and more!
Our family has grown and our lives are busier than we ever imagined. We certainly couldn't have balanced it all without our trusty car.
Easily find your next ride on Kijiji Autos
Search now