How to choose a car with Mohamed Bouchama
By Kijiji Autos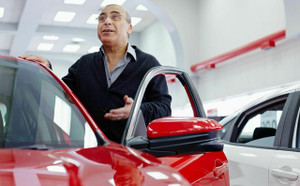 Purchasing a car can be a very intimidating and overwhelming experience. In addition to the initial purchase price, there are many other factors that need to be taken into consideration before handing your money over.
If you are still in the first few stages of the car-buying process, I've long recommended the Kijiji autos section, which offers a wide selection of both new and used vehicles to choose from. No matter your budget or style, you can find a car that suits your needs.
Whether you're in the market for a new or new-to-you vehicle, auto expert and consultant for Car Help Canada Mohamed Bouchama can help you make the right decision when picking your new wheels.
Take a thorough test drive
By now, you've likely started setting up test drives for potential cars with sellers, or maybe even driven some, but how do you know which car is "right"?
For starters, you need to ensure you're making the most of the test drive. It's important to sit inside the vehicle and get a feel for how comfortable it is. Is the seating position comfortable? Is the outward visibility good? Do the controls work properly and are easy to operate? I'm always shocked by how many clients tell me that they only took a car on a short drive around the block or haven't driven it at all!
I highly recommend taking any potential purchase for a longer drive, including some time on the highway, to really get a feel for it. This is when I've noticed many clients fall more in love with one.
If possible, I also suggest clients bring along a knowledgeable friend to come along for the test drive. They may catch something that you missed or offer a different perspective as a passenger. If you need help on how to do the perfect test drive, Kijiji also offers some fun and educational videos filled with tips and how to's for car buyers!
Do further research to support your choice of purchase
After you've completed a test drive, it's important to do some additional background research on the car you are interested in buying. Whenever I am helping clients find the right model, I always have them ask the following questions:
What do the sources say about the vehicle's reliability?

Does it require expensive maintenance and servicing?

How is the fuel economy?

Does it require premium fuel?

Does it have a strong resale value?

How long is the warranty coverage?

How much does insurance cost?
Did you know? There are more than 400,000 auto listings available at any given time, so there's something for everyone!
Get a history report and a pre-purchase inspection
If the vehicle is used, make sure to ask if it has been involved in an accident. Whether it's being sold through a dealer or a private seller, I always ask for a copy of the CARFAX Canada report to verify this information. From there, I have a mechanic perform a pre-purchase inspection. An inspection can reveal hidden problems that tell you to either walk away or negotiate a lower price to account for repair costs.
I really can't emphasize enough the importance of these inspections. I've experienced countless examples of clients and consumers who have purchased used (and sometimes nearly new) cars with serious and costly problems – all of which could have been prevented with a simple pre-purchase inspection to ensure quality.
Pay the right price
By this stage, you've probably got your eye on a specific model. It feels great to drive; the research supports your decision and the inspection came back clean – you just need to hand over the money.
Before you do, I always guide prospective buyers to consider much more than the purchase price – How much will maintenance and repairs cost? Insurance? Fuel? What are the financing and interest rate options provided by the dealership? Remember to focus on the total purchase price of the car instead of the monthly payment. You might also consider joining a consumer advocacy group such as Car Help Canada for personalized counselling and a lower price if you don't feel comfortable negotiating yourself.
Don't sign the contract until you are 100% sure
Once you sign the contract, the vehicle is yours. There is no cooling-off or return period, so if you want sale conditions, they need to be in the contract. Before making a final decision, I always have my clients write sales conditions in the contract such as "sale conditional upon spousal approval and successful completion of a pre-purchase inspection." This has helped many of my clients ensure that all the boxes are checked before driving away with your purchase.
Test driving vehicles can be time consuming and confusing with so many options available, but following these steps will help you weed out the good decisions from the bad ones, and ultimately, drive away in the right one for you!
For more tips on purchasing a vehicle, visit Kijiji Autos.
Easily find your next ride on Kijiji Autos
Search now