New car warranties: which one is right for you?
By Kijiji Autos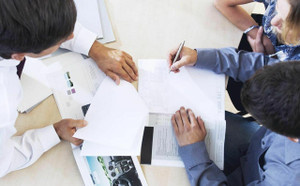 You're sitting in front of the sales rep you contacted through the dealership's ad on Kijiji Autos, and you're all ears.
You've been out for a test drive, and the rep has just finished reviewing the mechanical specs of the car you're interested in. All that's left to decide are a few final details.
Now begins the discussion about your new car's warranty. The language is a bit technical, the rep is going into great detail, and you're no longer sure what's covered and what isn't.
Here's a brief look at the various warranties out there and how they're applied:
Basic warranty
This is the warranty applied to all new vehicles. It typically covers just about any defect your car might have that's not due to misuse or wear and tear.
So if, for example, your hood won't open, the passenger window won't go up or the transmission quits, it's all covered. Simply take your car to the dealer, who will assess the work needed and, upon approval, carry out the repairs at no cost to you.
This warranty, which comes standard on all vehicles, is ordinarily a reasonable length and based on either the mileage or a given time period. But beware—this type of warranty will not cover windshield chips or cracks, new brake pads or other problems that arise through normal wear and tear. Also, if you modify your vehicle by ramping up its power, for example, chances are the warranty will no longer apply to the parts affected by your changes.
Powertrain warranty
You've likely heard this term before, but not everyone knows what it means, and that's understandable. Basically, it refers to anything that needs oil, i.e. all of the parts that make the car run, such as the transmission, engine or differential.
If these parts break down, they're generally covered by the manufacturer, but you'll still have to meet certain conditions. For instance, you can't alter any of the engine mechanics on your own. Also, you're expected to follow the maintenance schedule recommended by the manufacturer for your new car, particularly when it comes to oil and fluid changes for the engine or transmission. You also have to use products that are recognized by the manufacturer.
Extended warranty
Extended warranties are optional, and they'll cost you a bit of cash. You'll be given the chance to purchase an extended warranty when you meet with the Finance and Insurance Manager at the dealership. Extended warranties vary in their features and duration, but all are intended to increase the length of time certain vehicle components are covered.
Because no universal extended warranty program exists on today's market, it's up to new car owners to choose the option that best suits them. One big advantage of an extended warranty is that it's usually transferable to a new owner, which can increase the resale value of your vehicle.
Anti-corrosion warranty
Some substances can be hard on a car's body, such as calcium in winter. For this reason, manufacturers offer multi-year warranties for rust protection. But they don't cover small rust spots. They apply rather to situations where rust has perforated the body of the vehicle.
The representatives at your dealership are your best resource. They know their warranties inside out and will help you choose the one that's right for you.
Easily find your next ride on Kijiji Autos
Search now