Papers please - what to bring when you buy a new car
By Kijiji Autos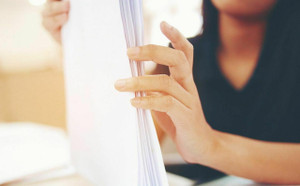 The paperwork involved in buying a new car takes time and can mean going through many steps. To make sure you don't forget anything, here's a little guide to what you should have on hand before you make the purchase.
At the outset, buying a car looks complicated and seems to involve a lot of forms. It can be relatively simple, however, with some help from your dealer, especially if there's no trade-in requiring proof of ownership and other documents. Here, the focus is on your purchase, which is more straightforward. But you'll still have to do some homework and bring the right information to the dealership.
What to prepare
In addition to government proof of identity, such as your driver's licence, the official documents required to buy a new (or used) vehicle are proof of employment and proof of earnings under the terms of your purchase.
If you choose to make an immediate cash payment, you'll probably need a certified cheque from your financial institution covering all transaction costs. You'll only be able to have one prepared after the contract has been drawn up and all the options selected.
The other documents required will serve to ensure financing of the vehicle. The more relevant documents you bring to a credit application, the more straightforward it will be. Your dealer's finance manager will be happy to tell you in advance what information will be needed to avoid delays.
Self-employed workers will probably have to provide a tax return, while an employee will have to show proof of hiring and proof of salary. The dealer can perform a credit check on you through a credit bureau, but this will require additional time.
Proof of insurance
Proof of insurance is mandatory and must be shown to the dealer before you leave the lot with your new car. Your insurance policy applies to the specific vehicle, and your broker or insurance company will need all the details provided by the dealer to produce the certificate.
Shop around before you choose your policy and get multiple quotes. Once you've made a decision about a policy the whole process can be completed quickly with a little patience on the phone.
Registration
Two options are possible. If this is your first vehicle or you don't want to keep your current licence plates, the dealer can attach the new plate and register the car for you. All you have to do is pay the costs.
If, on the other hand, you wish to keep the plates you own because they are personalized, or for some reason the dealer can transfer the registration for you or give you a temporary one so you can go to the registry office in person.
It's no more complicated than that. All you need is to do a bit of leg work and have the right documents to finally take the wheel of your beautiful new car. If you haven't found the right car yet, head over to Kijiji Autos!
Easily find your next ride on Kijiji Autos
Search now