Plan your great Canadian road trip adventure with a Tesla trip planner
By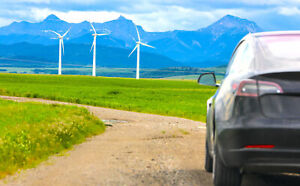 You've got your Tesla and now you want to hit the open road and see what your car's batteries are really made of with a great Canadian road trip. Just like you need to map out gas stations along your route, you'll have to plan your trip around available EV charging stations. 
Here are the most popular apps you can use to plan your next Tesla road trip:
Tesla's built-in trip app
Tesla's built-in trip planner is a convenient way to get in the car and go. It is especially helpful when planning long road trips. It adds the convenience of predicting how much charge you have until you reach the closest electric vehicle charging station. 
One thing to note is that Tesla's built-in trip app can sometimes be inaccurate when temperatures reach below –3℃. 
A Better RoutePlanner (ABRP)
Although it's not a Tesla product, the ABRP app is convenient to use and offers many features for EV drivers. Available on your computer or smart device, ABRP paints an accurate picture of what your road trip will look like. It takes into account road conditions, outdoor temperatures and even your driving style.
The ABRP app also allows drivers to share their trip with others and add waypoints. Plus, it provides accurate details in any temperature.
PlugShare trip planner
PlugShare is another non-Tesla app that syncs you with over 180,000 EV charging stations in Canada and the US. It allows you to review stations along your route to find the most reliable one and lets you communicate directly with other PlugShare users to share your coordinates or plan your next charge meetup. 
PlugShare gives you detailed navigation instructions to help you get to your next charging station using the most direct route.
Tips for choosing the best Tesla trip planner
Read customer reviews and ask other Tesla drivers about their preferred trip planner app.

Test out your built-in trip planner on a shorter drive to see how accurate it is.

Try out non-Tesla apps on similar drives to find the one that meets your needs.

Plan your road trip and read reviews about any EV charging stations you're planning on using along the way.

Make sure your phone and trip-planner app are updated before you leave.
How to plan for your Tesla road trip
Make contingency plans in case your planned charging stops aren't available.

To make the most out of your Tesla's performance, plan your road trip when the weather is not too hot and not too cold.

If you're travelling across the country in the summer, park in a shaded area.

Maximize your range by setting your Regenerative Braking to standard.
Get more driving advice from Kijiji Autos
There's nothing quite like hitting the open road and exploring all the beautiful scenery Canada has to offer. With the help of Tesla trip planner Canada apps, you'll have no problem enjoying the journey as much as your destination. 
Want more helpful EV driving tips and advice? Check out Kijiji Autos' Advice Hub for everything you need to know about driving in Canada.
Easily find your next ride on Kijiji Autos
Search now