Is it time to trade or sell your car?
By Kijiji Autos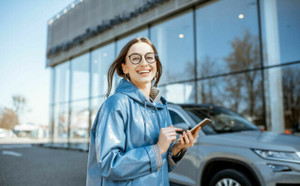 Browsing for a new car? With our Online Financing listings, shopping for a car online has never been easier, giving you the confidence and control you need to make the best choice for your budget and lifestyle.
If you're looking for a new ride but don't know what to do with your current one, you typically have three options to consider: keep it, trade it in or sell it.
Here are some things to consider doing with your current car, courtesy of Kijiji Autos:
Why you should (and shouldn't) keep your current car
Owning two cars can get expensive if you factor in the price of gas, insurance, parking and maintenance. If it's just you, or you're the only driver in the household, sitting on two cars is an unnecessary expense.
You can either lower the cost of a new car by trading it in or selling it privately.
Should you trade in your current car?
Trading in your car to a dealership is generally an efficient and cost-effective way to get rid of your current vehicle. It is crucial to understand the trade-in value before heading in. It is also an effective way to discover what is my car worth?
How to know the trade-in value of your car
Thankfully, trading a vehicle in has never been easier. In fact, it can all be done online. Finding your car trade-in value is as easy as shopping for a car online. It is made even simpler by utilizing our trade-in estimator available in all our listings with Online Financing.
Before you start speaking to a dealer, take a look at our dealer advice page for cost-saving tips.
How to trade in your car
If you're wondering "what's the trade-in value of my car?" you'll find out once you've had your car appraised. The car trade-in value is based on several factors, such as its age, condition, mileage and comparable sales.
Should you sell your car?
Considering car value and trade-in value, sometimes you can get the best deal through selling. This includes selling your car online. If you decide to sell your car privately, knowing the estimated trade-in value will help you set the right price that's fair to you and enticing for your customer. Here are some factors that will affect your asking price:
Age and mileage

Make, model and trim

Add-ons or special features

Needed repairs
Learn more about pricing your car for sale.
How to sell your car
The success of your sale depends on your car listing. The stronger the ad, the more likely you'll get an offer that's close to your asking price. Once again, consider the vehicle's trade-in value.
Here's how sellers on Kijiji Autos typically find car-selling success:
Take detailed, well-lit photos of your vehicle

Write a descriptive and honest listing that includes all the details a buyer would want to know
Find out more about selling your car like a pro.
Get started with Kijiji Autos
There's a lot you can do from the comfort and safety of your own home. We've made the car shopping process as easy as possible by providing resources to help you shop with confidence. Learn about trading-in, buying and selling your car with Kijiji Autos.
Easily find your next ride on Kijiji Autos
Search now