SUV buyer's guide
By Kijiji Autos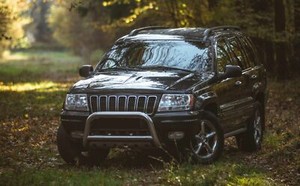 Sports Utility Vehicles, commonly known as SUVs, are a fantastic way to travel.
They combine the cargo room and seating capacity of a station wagon or MPV (multi-purpose vehicle) with the ground clearance and towing ability of a pickup truck. Sport Utility Vehicles come in all shapes and sizes, so there's lots to consider when buying one.
What Is an SUV?
An SUV is essentially a wagon that can go off road and tow heavy loads. They're often based on the underpinnings from a truck, which means you can get either rear-wheel drive (RWD) or 4-wheel drive (4WD). Most use body-on-frame construction (the body is bolted to a full-length ladder frame). By contrast, a crossover vehicle (CUV) is usually based on a front-wheel drive (FWD) car chassis. Thus SUVs give up some off-road and towing capabilities to receive a more car-like ride and handling.
How Big?
These days, you can find everything from a mammoth 9-seat Chevrolet Suburban to the (considerably smaller) Jeep Wrangler. Full-size SUVs offer loads of room for people and stuff, but they're not very easy to park or maneuver through traffic. Most of them can be ordered with driver aides like blind spot warning systems and cameras to help when backing up. You'll definitely want to get those features if you plan to drive around in something that's bigger than your first apartment.
Smaller SUVs also can be challenging to drive, thanks to their tiny windows and huge pillars (the body parts on the corners of the interior that hold up the roof and surround the windows). Nonetheless, they still are easier to thread through traffic than a 'BargeUV'. The smaller footprint of the smaller SUVs also makes them easier to place off road and control in the snow. Better fuel economy is another advantage of their reduced mass, but you'll need to make sure that a small-midsize SUV will be able to meet your needs.
2-Wheel Drive or 4-Wheel Drive?
The advantage of driving a truck-based SUV is its off road capability. Thanks to their stiffened platform (the aforementioned truck-like ladder frame), the wheels and axles are able to maneuver over serious obstacles. Real transfer cases (basically the part that transfers power from the engine to the wheels) can also be used to deliver low range, crawl-through-anything torque. The ground clearance typically is much better than that of smaller SUV or car-based CUV.
Depending on where you live, the number of driven axles can be very important. By dividing the engine's torque between both front and rear axles, a 4WD system can keep your SUV moving forward in deep snow or on muddy tracks. A true 4-wheel drive system uses a transfer case to provide maximum torque in low-speed crawling situations. This allows your SUV to claw its way through deep muck or up steep inclines. On the other hand, an all-wheel drive (AWD) system can only engage the front axle when slippage at the drive axle is detected. This isn't ideal for serious off-roading, but AWD will certainly help you get the kids to school on a snowy day.
With 2WD or RWD, only one axle receives power from the engine. When wheel slippage occurs, the traction control (or stability control) system will attempt to intervene. However, those systems can only help you to maintain the amount of traction that's currently available. Whether you choose 4WD, AWD, 2WD or RWD will depend on your needs. If you routinely encounter situations or whether that requires additional traction, you may want to consider an SUV equipped with either AWD or 4WD.
Conclusion
With such a vast array of options available, it's important to decide what you actually need your SUV to do. Whether you need a truck that can carry you deep into the Yukon, or just a family truckster that can pull a boat and get the kids to school on time, there's an SUV out there for you. If before you buy you decide on the features that are most important to you, you'll know what kind of SUV to look for on Kijiji Autos.
Easily find your next ride on Kijiji Autos
Search now