Yes, you can teach your kids to drive and stay sane
By Kijiji Autos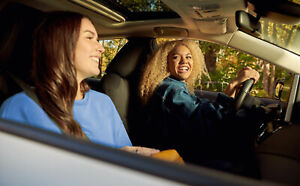 It might feel like just yesterday that they were little, but now your kids are growing up and ready to go through the rite of passage of driving lessons. Taking the time to teach your kids how to drive safely will give them the skills they need to be good lifelong drivers, and give you confidence that they will be safe on the roads. There are a few key things you can do to help ensure that you stay sane while your child gets the hang of operating a vehicle, and help the lessons flow as easily as possible.
Finding the right time and place
Choose a good time for the driving lesson to occur, where you have nothing scheduled right after that can put pressure on the lesson if it starts to take longer than expected. Aim for a time when you are both feeling well-rested, alert and not hungry. Plan to avoid rush hour or sunset hours that can affect visibility, and avoid practicing in adverse weather to start.
Equally important is picking a good place to practice driving. Quiet, low-traffic roads are ideal for drivers just starting out to sort out where the controls are and get a feel for the vehicle with little outside pressure from traffic. For drivers who are ready to learn more, areas around small neighborhoods provide stop lights, signs, school zones and other situations for drivers to practice responding appropriately to.
Practice makes perfect
Focus on providing clear instructions to your child ahead of time, so that they have an idea of what they need to do and can plan ahead of time. If you are unsure of how to explain certain driving concepts, watch a few driving how-to videos or read some articles to find ways of explaining that are simple and precise. You may want to do a drive with your student with them in the passenger seat first, so that they can observe you correctly performing the driving maneuvers before having them try.
Driving is a skill that practice makes perfect, so be prepared to be patient and spend extra time to ensure that your child fully grasps the concepts and maneuvers before moving on. Remember that you have had years of practice to build your driving skills and your child is just getting started, so it's natural for them to be nervous and fine to take things slow. It's more important to encourage them to be safe and build their confidence than it is for them to learn quickly. 
Discover tips for choosing the right driving instructor on National Driving Institute's blog. 
Keep it cool
At the end of the driving lesson, try to plan a little time to do something fun, such as stop for an ice cream, make a detour to a special viewpoint or swing by a friend's house for a quick visit. This little fun addition to the outing helps to get rid of driving anxiety and keeps your child looking forward to the next lesson, plus, it's a treat for a good session of learning! 
Easily find your next ride on Kijiji Autos
Search now