Tips for buying a used car
By Kijiji Autos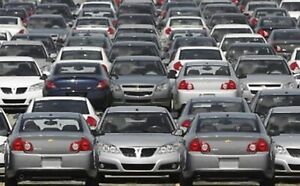 In life you can be assured of three things, death, taxes and the fact that when the Canadian International Auto Show rolls around, consumers will be ready to buy cars.
The show promotes new and innovative technology as well as fuel efficient advancements in the automotive world. New vehicles are the highlight but you can be sure the pre-owned side of things takes a lift in the right direction.
If this is your first time diving into the decision to make the second largest purchase in your life, everything can be quite daunting! We wanted to compile a list of tips for the first time used car buyer and help make the process a little easier.
1. My grandfather bought his first car from ABC Motors! I'll probably check them out first!
Every dealer has a history. Some have been around for a year; some have been around for 50 years. A dealer that has been in business for a long time has a long list of customers and probably has testimonials. Similarly they may also have some negative reviews. Look into the dealer history and know what you are getting into first. Yelp.ca and Google Reviews is a great place to start.
2. My friend told me you can't go wrong with a Toyota…his wife told me to go with Honda and my son told me I'm an uncool Dad if I don't buy a Mazda…I regret asking to say the least!
Everyone has their opinion and they are entitled to it. Somewhere along the line they got advice and opinions from others, and around and around we go. There is a reason why they play the game "broken telephone" in school with children! The best advice I can give is to consult a few car review sites before even forming an opinion. Without doing this, confusion will ensue as soon as friends and family find out you're buying a car. Auto123.com, Autos.ca, CarAndDriver.com, and AutoGuide.com are a few sites that will definitely help out.
3. Holy smokes! A 3 year old Mercedes for only $15,000!! Where do I sign???
Another thing to keep in mind when researching your purchase is to look at the year/kilometer/price ratio. A 3 year old Mercedes may be $15,000 but it also may have 250,000 kilometers making it a very heavily used car. Keep in mind that the higher the kilometers are, the more trips you are going to have to make to service the vehicle.
4. Where has this thing been?
The history of a vehicle is paramount. A major previous accident could affect the performance of the vehicle, but more importantly it could affect your wallet when it comes to selling it down the road or visiting your local mechanic. A CARFAX Canada report is the standard in the Canadian automotive world. This report details the history of the vehicle, any accidents that have occurred but most importantly, gives you piece of mind. Always ask for one!
5. What?? I thought my payment was $300/month, what is all this bi-weekly business about?
This one is pretty straight forward. A bill of sale is a long document with a lot of fine print. Be sure to read it over in full twice. Always know what kind of payment to expect before talking about it with anyone else.  Talk to your financial institution about what kind of interest rate they can provide. There are many different types of loan calculators on the net that can be used to assist as well. I use the one on TD Canada Trust's website as they are who I bank with. Ask as many questions as you can and if you don't fully understand, don't sign.
Hopefully these points have been helpful. Always remember, buying a car should not be super quick or super easy, but it can be made super simple!
Easily find your next ride on Kijiji Autos
Search now