Top 6 car essentials for new parents
By Kijiji Autos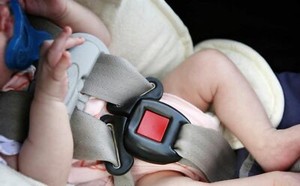 Being a first time parent can be hard enough trying to figure out things on a daily basis. There are a lot of car gadgets and accessories for parents on the market. It's hard to know what you really need if this is your first child. You might be spending a lot of time in the car with your child for your daily routine. There are also doctor appointments, car rides to help baby nap and more to think about. Make it easier with these car essentials, which can help a new parent out.
Baby Monitor and Camera
A car baby monitor and camera can help give parents comfort by glancing at their baby on the monitor. It eliminates drivers from adjusting the rearview mirror and constantly checking behind them. There are even monitors that have a night time vision camera, which will help any parent. This will help keep you focused on driving you and your little one safely to where you're going.
Backseat Mirror
This is a budget friendly option, which is easy to set up and use. Find a shatterproof backseat mirror that won't crack or shatter. It should attach easily to the rear of the headrest of the car seat. You'll be able to easily see what your baby is doing in your rearview mirror.
Key Finder
There's nothing worse than spending an hour getting your child ready for a car ride and you can't find your car keys. A key finder is a must if you're prone to misplacing your keys. Find one that has a loud enough beeping noise that will help you locate keys quickly. There are also key finders that can help you find something in the dark with a glowing light.
Car Window Shade
It's important to protect your baby from the rays of the sun with a car window shade. A great quality window shade should protect the baby from ultraviolet rays, cut the glare and help maintain a cool temperature inside the vehicle. Make sure to select a shade that will fit the type of vehicle you have. There are larger sized window shades made specifically for trucks and SUVs.
Insulated Car Seat Cover
Winter can bring cold weather that your baby needs to be protected from. Look for an insulated car seat cover that is specifically for the winter. It should allow different coverage on the car seat. A quality insulated cover will help reduce exposure to the elements of the weather and maintain your baby's temperature. You'll find different car seat covers for all seasons.
Handheld Vacuum
Having a handheld vacuum in the car can help eliminate dirt, spills and crumbs. Let's face it. Kids can make a mess wherever they are. Choose a compact vacuum that is easy accessible for you to do a quick cleanup. Make sure it has a good suction power to ensure you don't need to go over it with wipes or a brush.
Easily find your next ride on Kijiji Autos
Search now