Used reviews: 2009 BMW 328xi Coupé
By Kijiji Autos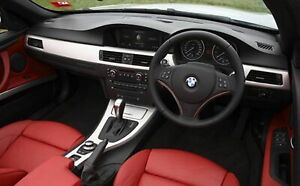 Hopefully, many times in one's life, there will be a car that stands out and makes you feel warm inside no matter what angle you are looking at it. A car with perfect proportions, exceedingly well-executed lines, and the colours that put it right over the edge. When I first laid eyes on the BMW E92 3-Series coupé (in white), these are the kinds of feelings that built up inside of me.
The E92 328xi coupé is a well-finished, well-built driving machine made to handle anyone who wishes to step foot inside its comfy and cozy interior. Hardcore autocross enthusiasts, soccer moms, Joe Pesci, you name it. My tester came with the red leather and piano black trim that accented the car wonderfully. The seats are supportive and feature adjustable air bladders on the side-bolsters to keep you strapped in on corners or to give your body room for cruising. Trunk space is also enormous for a car such as this with special provisions for skis because, you know, skiing.
No interior is perfect, however. Remember that. While back seat space is plentiful and materials are excellent, ingress and egress could be improved and my 5' 8" self occasionally hit his head on the bloated A-pillar when checking his left blind spot. The cup holders are a bit flimsy and intrude some of the centre stack controls even though they are out of the way of the shifter. The standard digital radio screen cannot be read while wearing your mandatory polarised sunglasses, and the standard radio leaves a lot to be desired. But the gripes end there.
This 3er is just as fantastic as any other. You won't find a more solid and a more ridged chassis with better reflexes in this class. The 3.0L straight-6 only puts out 230 hp with 200 lb-ft of torque, but you wouldn't care from behind the wheel. The engine is about as smooth as a Wankel rotary engine, which is saying something. It pulls linearly and has the right amount of low-end torque for city slicking. The X-Drive AWD system makes the 328xi grip beautifully and while some purists may cry to their mommies about it not being the RWD model, if you want a year-round smile fest, look no further. I did not once miss RWD when I was driving this car. It is superb.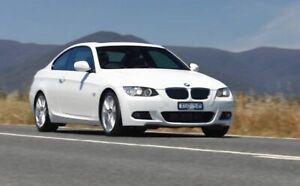 The BMW E92 3-Series coupé rides on rails even if it does feel a little big. If you have been spoiled by something smaller, say, a 1-Series, this will definitely feel like a boat. But, a thick steering wheel and tight suspension keep the car planted and in check long enough for you to forget that heft. Steering is communicative and well weighted for every task, if a tad tiresome to use at parking lot speeds. Brakes are firm and could probably adequately stop two 328xis if they had to.
My only complaints with the driving experience were with the transmission. The clutch is absolutely phenomenal and is everything that it should be: light, comfortable, good engagement point; the only thing it is missing is a finger to put an engagement ring on. Shifting gears once that belle of a clutch is in, however, is another story. I know many whom are happy with the shifters on these cars, but I was not impressed. The shifter is notchy and difficult to engage even when warmed up. What's more, throws are long and the engine revs drop extraordinarily quick while putzing around down which leaves you little time to shift those gears. However, the automatic version of this car is even worse with astoundingly bad throttle response.
It is tough to find a finer coupé than this one, though. Not many offer the same rear seat comfort – you could do a long trip back there, I'm serious – and grounded and stiff feel as the 3 coupé. The only things that this car is missing are a great shifter and a more powerful motor, and as luck would have it, the 335i and the M3 variants of the E92 exist.
Easily find your next ride on Kijiji Autos
Search now