What type of car is best suited for my needs?
By Kijiji Autos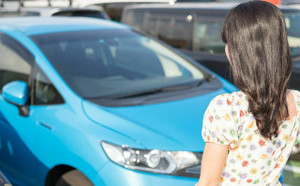 There's more to buying a car than simply finding a good vehicle - it's about finding the right car for your specific needs. No matter what kind of car you're shopping for, there are unique factors to consider. Kijiji Autos helps make the purchase process easier by doing a lot of this considering for you.
Whether you want a sleek urban commuter, a steadfast family vehicle, a powerful work machine, or something in between, the Kijiji Autos search functions and comprehensive sections are there to help. Here are some key things to consider for each kind of vehicle you may be looking for.
Families 
When shopping for a family car, space is a top priority. Consider the size of your family now, as well as in the future, in order to choose a car that provides enough seats and room for all of your family members, pets, groceries, kids' sports equipment and other everyday needs. Safety is also an important aspect, as you want to feel secure on the road. Because you may need to drive to school, as well as to various appointments for your kids, an efficient vehicle is also vital to help keep fuel costs down. A car that offers entertainment features like USB charging ports or back-of-seat screens can also be useful when driving with children. The Families section of Kijiji Autos streamlines your search for the family vehicle by showing you cars with these important elements in mind.
First Cars
Buying your first car can be a really fun new experience. If you're wondering which kind is right for you, Kijiji Autos is an ideal spot to start your search, as it does a lot of the finding for you. Use the browse by category feature to quickly sort out vehicles that are ideally suited for new car owners. These vehicles emphasize great safety features to keep newer drivers feeling comfortable on the road. They are also dependable models to help keep you running smoothly and to keep repair costs down.
Hard Work
Finding the vehicle for work depends on the requirements of your job. If you need to haul cargo or tow a trailer, it's vital to look at the towing capacity and engine horsepower to ensure you have plenty of power when you need it. If your job has you covering rough terrain, AWD and high clearance ensures you'll make it where you need to go. Check how much space you need in your vehicle for equipment and tools. A truck with a spacious bed may be necessary to store everything comfortably.
Commuting
If you're on the hunt for which car is best for your commute, most drivers focus on efficiency in order to keep fuel costs down. However, because you will be spending a lot of time in your vehicle, be sure to consider how comfortable and easy to drive it is, too. You may also want to consider features such as Bluetooth to be able to listen to podcasts and make calls while en route. A good safety record is also important in a commuter car because so much time is spent on the road.
City Cars
Efficiency, maneuverability and parking, style, and transmission. For city drivers, looking for which car to buy, city efficiency is important, as plenty of stop-and-go traffic can take a toll on your wallet at the gas pump. A maneuverable vehicle that can nip through traffic also makes city driving easier, and a compact vehicle that can fit into tight parking spots is always a plus. Style is also a key factor for many city drivers, as it's nice to take on the streets in a car that you feel confident in. The City Cars section of Kijiji Autos boasts a host of sleek, efficient vehicles ready to take on urban streets.
Eco-Friendly
Investing in an eco-friendly car not only helps the planet, but also helps your wallet when it comes time to re-fuel. When shopping for an eco-vehicle, you may need to take some time to reflect on your driving habits before deciding what kind of car suits you. If you live in an area that doesn't have many EV charging stations, it may be best to invest in a hybrid to cover your driving needs. If there are plenty of EV charging stations around you and your driving habits fit in the range provided by a fully electric vehicle, this may be a great option to save you fuel costs. Browse the Kijiji Autos Eco-Friendly section to get an idea of the range of vehicles available in your area.
No matter what kind of vehicle you're looking for, Kijiji Autos has already done a lot of the work for you, providing curated lists of available vehicles that fit the profile of your needs. Paired with powerful search features and instant price analysis, it makes finding the right car as easy as it can be.
Easily find your next ride on Kijiji Autos
Search now