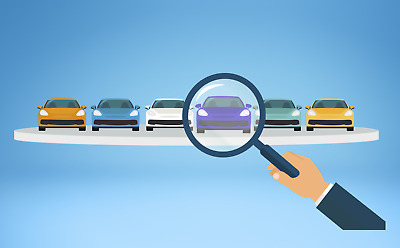 How to compare car prices?
Compare car prices with ease using our car price guide
These days, you can go to one online source and research a variety of different vehicles all in one place and find the best car deals. It sounds easy, but it can also be intimidating. You might ask yourself, "How do I find reliable car prices?" and "What is a new car value in Canada?" Kijiji Autos offers tools and information to help you make sure you're getting a great deal.
Kijiji Autos helps you with all aspects of your car purchase, including finding which vehicle is right for you from their large inventory and getting an estimate of your monthly payments if you choose to finance it. 
When you search for a vehicle on Kijiji Autos, the price of the vehicle is clearly listed on the search results page. Even so, it's hard to compare prices outright because there are many different variables that affect car values, even among the same models where different trims have different features. Add to that the vehicle's history and the number of kilometres it has, and comparisons become complicated. Kijiji Autos has a car price guide that helps make it simple.
Kijiji Autos and CARFAX Canada make comparing prices easier than ever
Kijiji Autos has a price analysis that is based on an estimated price for a used vehicle provided by CARFAX Canada that also takes into account the vehicle's available history. This estimated price from CARFAX Canada is then compared to the listed price given to the car, and based on that, the car is given a label. These labels include:
Great Deal: Clearly below the estimated price provided to Kijiji Autos.

Good Deal: Slightly below the estimated price provided to Kijiji Autos.

Fair Deal: Within the estimated price provided to Kijiji Autos.

Above Average: Above the estimated price provided to Kijiji Autos.

Not Rated: Far above or below the estimated price provided to Kijiji Autos.

No Data: No estimated price could be provided to Kijiji Autos for the listed vehicle.
It should be noted that there could be a reason for a higher price, like having a special feature that similar vehicles don't have. Just be sure to check with the seller.
These labels are a quick way to identify if you're getting a good deal, saving you tons of time that would have been spent gathering all that information yourself.
Kijiji Autos has search filters that can direct you to the car price check you want
Two of the many search filter options offered by Kijiji Autos help you narrow down pricing information on your preferred car. One filter lets you request cars with a CARFAX Canada Report, and the other, called the Select CARFAX Canada attributes, narrows down the CARFAX report to specific information that you are interested in, such as no reported accidents, low kilometres, one owner and top condition.
What CARFAX Canada checks for you
CARFAX Canada is an invaluable tool for buying a used car. Carfax takes away the mystery of a car's past and relieves anxiety around any hidden problems. Criteria for the CARFAX Canada vehicle history includes:
Accident data

Lien status (or money owed on the vehicle)

Open safety recalls

Full U.S. history report
Anyone can order a CARFAX Canada report, all you need is the VIN (Vehicle Identification Number, which can be found on all vehicles). All reports are valid for a period of 6 months.
Buyers and sellers alike can benefit from this report. As a buyer, receiving a report from a trusted third party can be a source of reassurance, as it contains a lot of non-biased information. Knowing what to expect can take the stress out of buying a used vehicle. A CARFAX Canada report can answer all kinds of questions – some you didn't even know you had!
More tips to help you get the most value from a used car
In addition to doing your research and comparing prices, there are things you can do to make sure you make a good purchase.
1. Study the CARFAX Canada report
If the seller doesn't have the report, you can order one online from CARFAX. Getting lien information is important because you might have to give up the vehicle without a refund if there are outstanding payments when the purchase is finalized and you haven't obtained a quittance.
2. Request the maintenance booklet
The booklet will show if the previous owner followed the manufacturer's recommended maintenance schedule. Ask if the car has been recently serviced.
3. Do a visual inspection
Make sure you do the inspection in good lighting. Some things to note are the condition of the tires and if there is corrosion. Also, the headlights, brake lights and signals should work properly.
4. Check the interior
The state of the interior and the seats give an indication of the overall condition of the car. The seats should still offer the amount of support you need.
5. A test drive is a must
A test drive reveals how comfortable the car is, how it handles, how the brakes respond and how the engine sounds.
6. Have the vehicle inspected
Get an independent mechanic to do an inspection. Their expertise can determine the true fitness of the car.
7. Check for extras
If the price seems high, check to see what is included. The purchase price might be affected by extras such as winter tires.
8. Financing, the final step
You've decided on the car and now you can look at financing options. Personal loans or car loans from your financial institution are usually the best deal, but some dealers offer leases on used cars. Compare financing options and choose the best one.
 
If you're looking for a used car, Kijiji Autos has a large inventory to choose from. We provide specs, model research pages and advice articles that empower you with information to make an informed choice. And thanks to our car price guide, you can easily compare used car prices and be confident that the stated value of any car is based on a fair assessment. Check out Kijiji Autos and get the right used car at the right price.
FAQs
The best way to get a good deal on a car is to do research and compare prices. Browsing Kijiji Autos will empower you with the information you need to select the best car for you, and comparing prices is easy with our Price Analysis tool, which adds a label as a quick way to identify how the listed price compares to the estimated price from CARFAX. There are 5 types of labels: Great deal, good deal, fair deal or above average.
A CARFAX Canada report is incredibly helpful in determining a car's value. The report takes into account different factors, such as reported accidents, so that you get an accurate market value for a specific car, with its specific history.
Kijiji Autos has search filters that help you find used vehicles of the body type, make and model that you want. The search results will give you the kind of car that you want, and the price is clearly indicated on the page.
Mileage is one of the most important factors in the price of a used car. That's because the amount of wear and tear on the car increases the more mileage it has, and inevitably, there will be maintenance cost increases. Higher mileage usually means a lower cost initially, though. A lower mileage car will cost more, but it will have more resale value and have a longer lifespan.
You can compare car prices easily with Kijiji Autos's Price Analysis Tool. Kijiji Autos has access to important data from CARFAX Canada, such as reported accidents. This means we have a more accurate market value assigned to a used vehicle for sale than a listed price does. This is the quickest way to identify if you're getting a good deal without having to gather all the information yourself.