Skip to main content
Browse by category
Eco-friendly Cars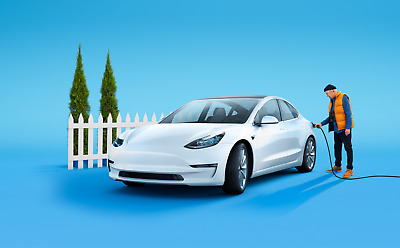 If you've been thinking about going green by saving on fuel and reducing emissions, a hybrid car or electric car may be the ideal choice. There are a wide variety of new and used eco-friendly vehicles for sale near you.
Fully electric models
Fully electric cars (there are about a dozen available in Canada) are powered by an electric motor and battery. They do not use fossil fuel and have zero tailpipe emissions. Their range, depending on the vehicle and the weather factors, can be from 200 km. to 250 km. on a full charge. Some models claim they can even go up to 400 km.
Charging stations
Range may be a concern in less-populated areas, but electric cars are excellent commuter vehicles in areas where charging facilities are available. With an increasing number of electric vehicles on the market, more charging stations are being built and it is becoming more convenient to charge your vehicle.
Plug-in hybrid models
Plug-in hybrids use electricity and gasoline and can travel from 20 km. to 80 km. on a full charge (depending on the model). Once the battery charge is depleted, a gasoline engine or generator turns on for an additional 500 km. range. Plug-in hybrids can do everything that gasoline-powered cars can do with the added "green" benefit of using the all-electric feature for most commuter or city traffic driving.
Plug-in hybrids are also a solution for the "range anxiety" that some electric car drivers experience. These vehicles are ideal for use in areas without EV (electric vehicle) charging stations. There are more than two-dozen plug-in hybrids on the market that come in all shapes and sizes, ranging from small cars to minivans to performance cars.
Hybrid models
A third environmentally friendly choice is a hybrid vehicle; which offers a balance between an electric motor supplied by a battery and an internal combustion engine. Although its range on pure electric power is limited, the combination reduces fuel consumption and conserves energy. Almost every manufacturer has some form of hybrid on the market, ranging from small cars to performance cars and vans.
Top tips:
A hybrid car may be ideal if you want to switch to a "green" vehicle that you can still use in areas that do not have EV charging stations

A fully electric vehicle will save you money on gas and is also better for the environment because it has zero tailpipe emissions

Some "green" vehicles may be permitted in the HOV lane, even when you are driving alone

British Columbia and Quebec offer rebates and tax credits for qualifying fuel-efficient vehicles

Consider your driving habits to determine whether a fully electric, plug-in hybrid, or non- plug-in hybrid will suit you best. Check the charging times and ranges for electric vehicle models to determine whether or not they work for your lifestyle
Before making a decision, browse through our inventory below to find the new or used eco-friendly vehicle for sale in your area that's right for you.