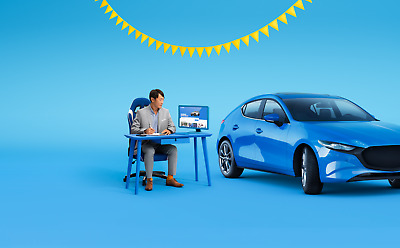 What does
Certified Pre-Owned mean?
Connect with certified pre-owned dealers on Kijiji Autos
Your well-being remains our top priority. Please seriously consider whether in-person meetings are necessary and visit our Help Desk for more information.
If you're new to the car-buying world, you might be weighing your options and deciding whether to buy new or used. But there's a separate category of available vehicles out there that acts like a hybrid of the two: certified pre-owned. 
While not technically new, certified pre-owned (CPO) vehicles give you many of the perks of owning a new car without the price tag. Although they're a little more expensive than a pre-owned vehicle sold by a used car dealer or private seller, a CPO vehicle comes with better guarantees that you're getting the most from your investment. 
Here's what you need to know about buying a CPO car:
What does certified pre-owned mean?
If a car is labelled certified pre-owned, it means that it has been returned to the original automaker or dealer in excellent condition. You get all the benefits of buying a new car at a much lower price. When you see the tagline "as good as new," you're likely looking at a CPO vehicle. A CPO vehicle is often a returned lease, which means that it likely has low mileage for its age and that the previous owner had it serviced by a mechanic certified by the automaker. 
Besides your home, buying a vehicle is likely the second biggest expense in your life, so you want to make sure you're investing in something that's going to last. If a car is certified pre-owned, you'll have a better guarantee that your car won't run into any major problems. 
How do I buy a certified pre-owned vehicle with Kijiji Autos?
We have partnered with CPO dealers in Canada to help make your car-buying journey as easy as possible. Take a look at each brand's CPO program details below to find the best option for you, and connect with a certified pre-owned dealer today through Kijiji Autos.
What are the pros and cons of a certified pre-owned vehicle?
A thorough multi-point inspection from the dealership 

Extended warranties or services

Manufacturer's guarantee of the car's condition 

Added perks like roadside assistance, Sirius XM Radio and bonuses (check specific CPO programs for details)
Can be more expensive than a used vehicle

Every brand has a different CPO program

The car you want may not be eligible for this program 

Ignoring the manufacturer's maintenance schedule can void your warranty
Frequently asked questions about certified pre-owned vehicles
A certified pre-owned car is a used vehicle that has been guaranteed by the manufacturer to meet a certain condition standard.
Buying a certified pre-owned car is a lot like buying a new car. Instead of purchasing your vehicle from a used-car dealership that sells a multitude of brands, CPO cars come directly from the dealer that exclusively sells cars in that brand family. Every car brand offers something slightly different in their CPO program. For instance, all of Honda's Certified Used Vehicles come with a 172-point inspection, while Acura's program offers a 125-point inspection. Depending on the make you want, you can expect the following perks from a certified pre-owned vehicle:
Roadside assistance

Extended warranties or services

Vehicle history report

Vehicle exchange program

Low mileage

Special financing
It's no secret that certified pre-owned cars are generally more expensive than used cars. To some buyers, the cost of the extended warranties and perks are not worth it. But whether or not you're a new or experienced driver, you could find these programs invaluable, especially if you're the kind of person who plans on driving their car for years to come. 
What a certified pre-owned program offers drivers is an assurance that the used car you're looking at is worth the price. And since all CPO cars are sold directly from the dealership, you know that the car has been thoroughly inspected, serviced and refurbished by someone who knows that make inside and out. 
Most dealerships offer a lease option on certified pre-owned cars. Ask your dealership for leasing options on CPO vehicles.
Yes. Certified pre-owned vehicle prices are based on various factors, but dealers usually expect buyers to negotiate the final sales price.
Yes. Many CPO programs offer exchange privileges within the first 7–30 days. Read the manufacturer's CPO program offer for more details.
Every brand's warranty offers different coverage on major components, such as power train. Check your local dealer's CPO program for more details.
CPO program details
Track Tested, Acura Certified Retested
All Acura pre-owned vehicles are at the cross section where High Performance meets First-Class Luxury and Comfort. A Certified Acura goes beyond this. To become an Acura Certified Pre-Owned Vehicle, the vehicle must both Qualify and be of the highest Quality.
Your benefits
7 years / 160,000KM Powertrain Warranty*

125-point Mechanical & Appearance Inspection

24/7 roadside assistance

7 days / 1,000 km exchange privilege*
Certified Beyond Ordinary Expectations
Not Used. Ford Certified Pre-Owned.
Your benefits
172 point inspection 

1 year/20,000 km Comprehensive Limited Warranty Coverage

24-Hour Roadside Assistance

Less than six years old and have fewer than 120,000 km on the odometer
Buy a vehicle with peace of mind
Unlike used cars, our Certified Pre-Owned vehicles go through 150+ inspections and come with roadside assistance, OnStar and more. 
Your benefits
Certified Manufacturer's Warranty

150+ point Vehicle Inspection

Roadside Assistance

30-day Exchange Privilege 
Honda Certified Used Never Felt so New
Honda Certified Used Vehicles are highly sought after thanks to Honda's legendary reputation for durability, quality, and reliability.
Your benefits
7 year / 160,000 km Power Train Warranty*

100-point inspection

7 days / 1,000 km exchange privilege*
Drive with Confidence
Purchasing a Kia Certified Pre-Owned vehicle means choosing quality you can trust at a price you can afford.
Your benefits
135 Point Vehicle Inspection

15 day/1,000 Km Exchange Privilege

CARFAX Vehicle History

SirusXM Endless Entertainment 

$500 Graduate Bonus
Luxury without compromise
Bold design, exhilarating performance, legendary Lexus quality and peace of mind all come standard.
Your benefits
175 point inspection to help ensure the highest standard of quality

2 years/40,000 km warranty with extended coverage available*

2 years/unlimited KM roadside assistance

10 Day or 1,500km exchange privilege
Luxurious by any standards. Certified by ours.
The benefits that come from owning a Lincoln Certified Pre-Owned vehicle will exceed your expectations. The privilege of Lincoln Pre-Owned ownership is our collective commitment to be there for you and your Lincoln.
200-Point inspection

Comprehensive limited warranty*

CARFAX vehicle history report

24-hour roadside assistance
CRAFTED.ENGINEERED.CERTIFIED.
Our passion for driving is timeless, and our Certified Pre-Owned vehicles are no exception.
Your benefits
160-point Inspection

7-yr/140,000 km Limited Powertrain Warranty

30-day/3,000 km Exchange Privilege

Preferred Financing Rates 

Consumer Rebates Available 
Intelligent Selection
The Intelligent way to buy a Pre-Owned Nissan
Your benefits
Extended Powertrain Warranty up to 72months/120,000kms

Rigorous 169-point inspection 

Special Financing Rates Available*

Emergency Roadside Assistance 

Vehicle Exchange Program 

Vehicle History Report from CarFax

3 month trial of Sirius Radio**
Once a Toyota, Always a Toyota
Buying a Toyota Certified Used Vehicle will provide you with unrivaled peace of mind and years of satisfaction.
Your benefits
Minimum 6-month / 10,000 km Powertrain & Roadside Assistance Coverage*

160-point inspection

7 days / 1,500 km exchange privilege*

24 Hour Roadside Assistance
Go with confidence.
Every Volkswagen Certified Pre-Owned vehicle is covered by our Assurance Program, which includes the remaining new-vehicle limited warranty plus 6 months of free roadside assistance.
Your benefits
Finance rates from 0.9%*

112-point inspection

3-month SiriusXM® all-access trial subscription