Skip to main content
Skip to Accessibility Services
Your browser is out of date
Some features may not be available. For the best experience, upgrade your browser.
Upgrade now
Infiniti Q60
:
Review the specs, features and pros & cons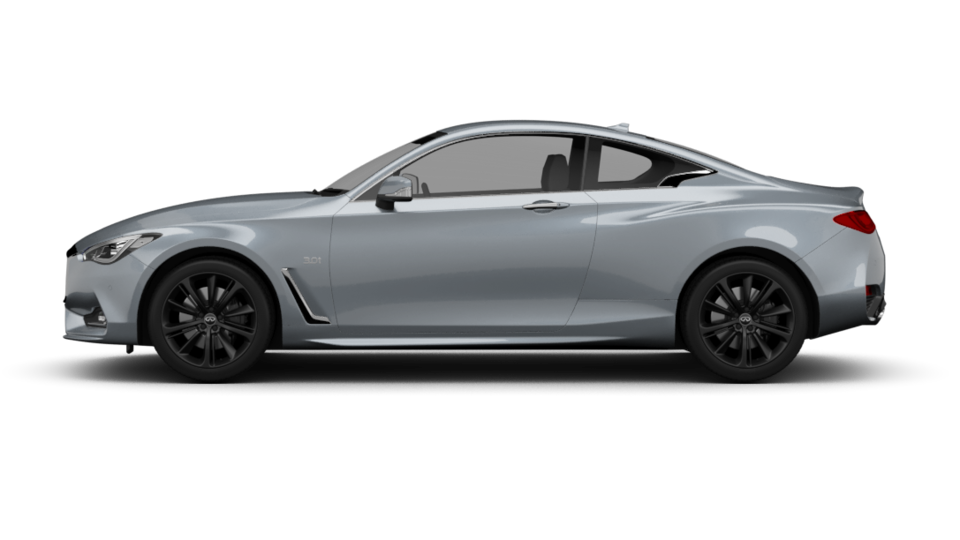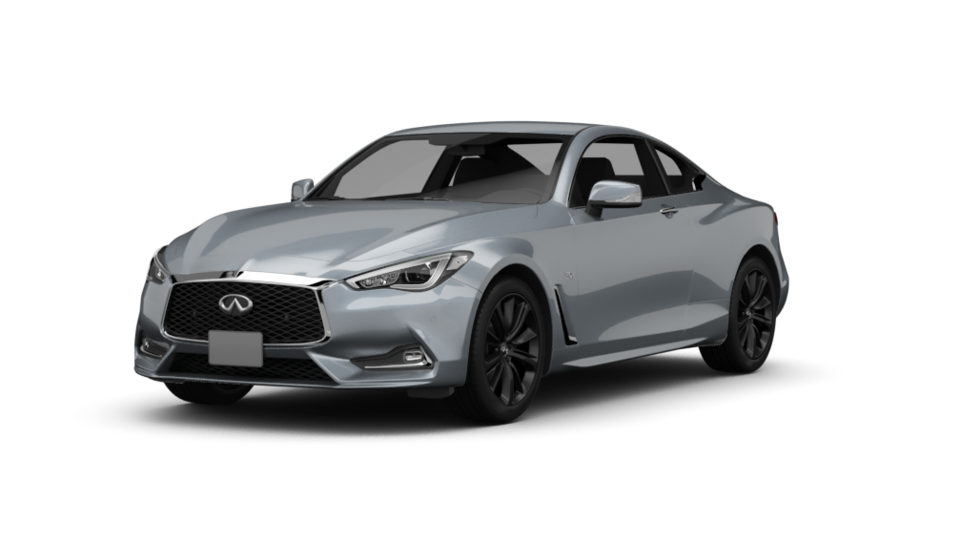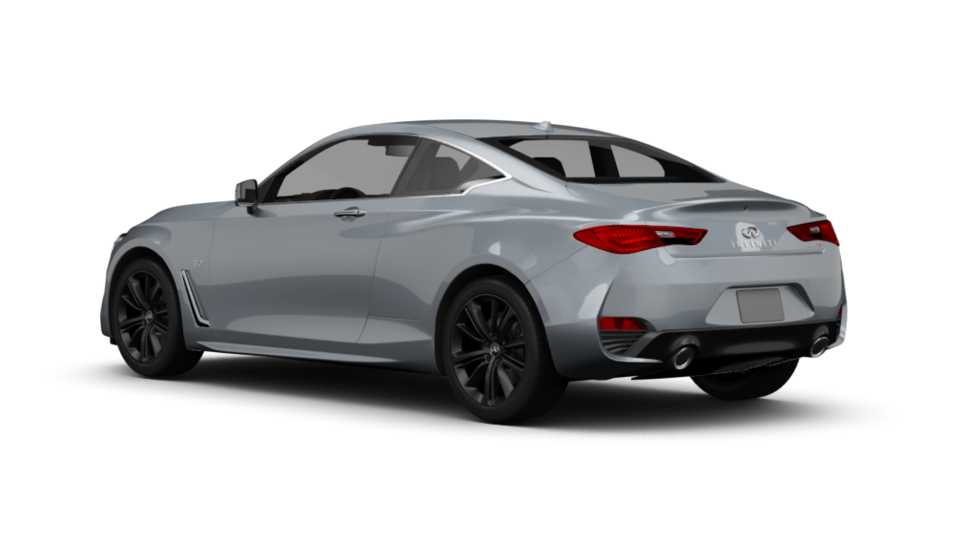 Specifications of the Infiniti Q60
Key specifications available across all trim levels
Seats

4

Doors

2

Fuel type

Gas

Transmission

Automatic

City consumption

11.2 - 12.5 L/100km

Highway consumption

8.5 - 9.2 L/100km

Width

1850 mm

Length

4685 mm

Trunk space

246 L

Cargo space

246 L
Exact values depend on trim and engine choice.
Trims available with the Infiniti Q60
What is a trim? Trims are different options of the same car with different features and equipment. The specs depend on the trim you choose.
This variant of the Infiniti Q60 2018 - 2020 is available in 9 trims:
PURE trim features and specs
Available with the PURE trim:
Available across all trims:
2 climate zones

Air conditioning (automatic)

Center arm rest between front seats

Driver seat has lumbar support

Electric windows

Electrically adjustable front seats

ISOFIX installation points

Leather steering wheel

Multifunction steering wheel

Power steering
Available across all trims:
Alloy wheels

Daytime running lights

Door mirrors electrically adjustable

Fog lights

Four-wheel drive

LED daytime running lights

LED headlights

Short wheel base

Sunroof
Available across all trims:
Anti-lock Braking System (ABS)

Brake assist system

Disc brakes

Dusk sensor

Electronic traction control

Four-wheel drive

Front-driver airbag

Front-passenger airbag

Side airbag

Side curtain airbag

Stability control

Tire pressure indicator
Available with the PURE trim:
Available across all trims:
Bluetooth

CD player

Computer

Cruise control

Digital radio

Hill start assist

Keyless entry

Power door locks

Radio

Rear sensors

Rear view camera

Touchscreen

USB port for front passengers
1 engine is available with the PURE trim:
City consumption:
11.2 L/100km
Highway consumption:
8.5 L/100km
RED SPORT trim features and specs
Available with the RED SPORT trim:
Emergency wheel

Heated front seats

Heated steering wheel

Paddle shifters
Available across all trims:
2 climate zones

Air conditioning (automatic)

Center arm rest between front seats

Driver seat has lumbar support

Electric windows

Electrically adjustable front seats

ISOFIX installation points

Leather steering wheel

Multifunction steering wheel

Power steering
Available with the RED SPORT trim:
Adaptive bending lights (optional)

High-beam assist (optional)
Available across all trims:
Alloy wheels

Daytime running lights

Door mirrors electrically adjustable

Fog lights

Four-wheel drive

LED daytime running lights

LED headlights

Short wheel base

Sunroof
Available with the RED SPORT trim:
Collision warning system

Collision warning system with automatic braking

Dimming interior mirror

Emergency call system

Lane departure warning

Overtaking sensors (optional)

Rain sensor
Available across all trims:
Anti-lock Braking System (ABS)

Brake assist system

Disc brakes

Dusk sensor

Electronic traction control

Four-wheel drive

Front-driver airbag

Front-passenger airbag

Side airbag

Side curtain airbag

Stability control

Tire pressure indicator
Available with the RED SPORT trim:
360 degree camera

Adaptive cruise control (optional)

Front sensors

Front view camera

Navigation system

Side sensors
Available across all trims:
Bluetooth

CD player

Computer

Cruise control

Digital radio

Hill start assist

Keyless entry

Power door locks

Radio

Rear sensors

Rear view camera

Touchscreen

USB port for front passengers
1 engine is available with the RED SPORT trim:
City consumption:
12.5 L/100km
Highway consumption:
9.2 L/100km
I-LINE RED SPORT w/o Lighting trim features and specs
Available with the I-LINE RED SPORT w/o Lighting trim:
Heated front seats

Heated steering wheel

Paddle shifters

Tire repair kit
Available across all trims:
2 climate zones

Air conditioning (automatic)

Center arm rest between front seats

Driver seat has lumbar support

Electric windows

Electrically adjustable front seats

ISOFIX installation points

Leather steering wheel

Multifunction steering wheel

Power steering
Available across all trims:
Alloy wheels

Daytime running lights

Door mirrors electrically adjustable

Fog lights

Four-wheel drive

LED daytime running lights

LED headlights

Short wheel base

Sunroof
Available with the I-LINE RED SPORT w/o Lighting trim:
Collision warning system

Collision warning system with automatic braking

Dimming interior mirror

Emergency call system

Lane departure warning

Overtaking sensors

Rain sensor
Available across all trims:
Anti-lock Braking System (ABS)

Brake assist system

Disc brakes

Dusk sensor

Electronic traction control

Four-wheel drive

Front-driver airbag

Front-passenger airbag

Side airbag

Side curtain airbag

Stability control

Tire pressure indicator
Available with the I-LINE RED SPORT w/o Lighting trim:
360 degree camera

Android Auto

Apple CarPlay

Front sensors

Front view camera

Navigation system

Side sensors

WiFi
Available across all trims:
Bluetooth

CD player

Computer

Cruise control

Digital radio

Hill start assist

Keyless entry

Power door locks

Radio

Rear sensors

Rear view camera

Touchscreen

USB port for front passengers
1 engine is available with the I-LINE RED SPORT w/o Lighting trim:
City consumption:
12.5 L/100km
Highway consumption:
9.2 L/100km
I-LINE RED SPORT Pro trim features and specs
Available with the I-LINE RED SPORT Pro trim:
Heated front seats

Heated steering wheel

Paddle shifters

Tire repair kit
Available across all trims:
2 climate zones

Air conditioning (automatic)

Center arm rest between front seats

Driver seat has lumbar support

Electric windows

Electrically adjustable front seats

ISOFIX installation points

Leather steering wheel

Multifunction steering wheel

Power steering
Available with the I-LINE RED SPORT Pro trim:
Adaptive bending lights

High-beam assist
Available across all trims:
Alloy wheels

Daytime running lights

Door mirrors electrically adjustable

Fog lights

Four-wheel drive

LED daytime running lights

LED headlights

Short wheel base

Sunroof
Available with the I-LINE RED SPORT Pro trim:
Collision warning system

Collision warning system with automatic braking

Dimming interior mirror

Emergency call system

Lane departure warning

Overtaking sensors

Rain sensor
Available across all trims:
Anti-lock Braking System (ABS)

Brake assist system

Disc brakes

Dusk sensor

Electronic traction control

Four-wheel drive

Front-driver airbag

Front-passenger airbag

Side airbag

Side curtain airbag

Stability control

Tire pressure indicator
Available with the I-LINE RED SPORT Pro trim:
360 degree camera

Adaptive cruise control

Android Auto

Apple CarPlay

Front sensors

Front view camera

Navigation system

Side sensors

WiFi
Available across all trims:
Bluetooth

CD player

Computer

Cruise control

Digital radio

Hill start assist

Keyless entry

Power door locks

Radio

Rear sensors

Rear view camera

Touchscreen

USB port for front passengers
1 engine is available with the I-LINE RED SPORT Pro trim:
City consumption:
12.5 L/100km
Highway consumption:
9.2 L/100km
SPORT Pro trim features and specs
Available with the SPORT Pro trim:
Emergency wheel

Heated front seats

Heated steering wheel

Paddle shifters
Available across all trims:
2 climate zones

Air conditioning (automatic)

Center arm rest between front seats

Driver seat has lumbar support

Electric windows

Electrically adjustable front seats

ISOFIX installation points

Leather steering wheel

Multifunction steering wheel

Power steering
Available with the SPORT Pro trim:
Adaptive bending lights

High-beam assist
Available across all trims:
Alloy wheels

Daytime running lights

Door mirrors electrically adjustable

Fog lights

Four-wheel drive

LED daytime running lights

LED headlights

Short wheel base

Sunroof
Available with the SPORT Pro trim:
Collision warning system

Collision warning system with automatic braking

Dimming interior mirror

Emergency call system

Lane departure warning

Overtaking sensors

Rain sensor
Available across all trims:
Anti-lock Braking System (ABS)

Brake assist system

Disc brakes

Dusk sensor

Electronic traction control

Four-wheel drive

Front-driver airbag

Front-passenger airbag

Side airbag

Side curtain airbag

Stability control

Tire pressure indicator
Available with the SPORT Pro trim:
360 degree camera

Adaptive cruise control

Android Auto

Apple CarPlay

Front sensors

Front view camera

Navigation system

Side sensors

WiFi
Available across all trims:
Bluetooth

CD player

Computer

Cruise control

Digital radio

Hill start assist

Keyless entry

Power door locks

Radio

Rear sensors

Rear view camera

Touchscreen

USB port for front passengers
1 engine is available with the SPORT Pro trim:
City consumption:
12.3 L/100km
Highway consumption:
8.7 L/100km
I-LINE RED SPORT Pro w/o Lighting trim features and specs
Available with the I-LINE RED SPORT Pro w/o Lighting trim:
Heated front seats

Heated steering wheel

Paddle shifters

Tire repair kit
Available across all trims:
2 climate zones

Air conditioning (automatic)

Center arm rest between front seats

Driver seat has lumbar support

Electric windows

Electrically adjustable front seats

ISOFIX installation points

Leather steering wheel

Multifunction steering wheel

Power steering
Available with the I-LINE RED SPORT Pro w/o Lighting trim:
Adaptive bending lights

High-beam assist
Available across all trims:
Alloy wheels

Daytime running lights

Door mirrors electrically adjustable

Fog lights

Four-wheel drive

LED daytime running lights

LED headlights

Short wheel base

Sunroof
Available with the I-LINE RED SPORT Pro w/o Lighting trim:
Collision warning system

Collision warning system with automatic braking

Dimming interior mirror

Emergency call system

Lane departure warning

Overtaking sensors

Rain sensor
Available across all trims:
Anti-lock Braking System (ABS)

Brake assist system

Disc brakes

Dusk sensor

Electronic traction control

Four-wheel drive

Front-driver airbag

Front-passenger airbag

Side airbag

Side curtain airbag

Stability control

Tire pressure indicator
Available with the I-LINE RED SPORT Pro w/o Lighting trim:
360 degree camera

Adaptive cruise control

Android Auto

Apple CarPlay

Front sensors

Front view camera

Navigation system

Side sensors

WiFi
Available across all trims:
Bluetooth

CD player

Computer

Cruise control

Digital radio

Hill start assist

Keyless entry

Power door locks

Radio

Rear sensors

Rear view camera

Touchscreen

USB port for front passengers
1 engine is available with the I-LINE RED SPORT Pro w/o Lighting trim:
City consumption:
12.5 L/100km
Highway consumption:
9.2 L/100km
LUXE trim features and specs
Available with the LUXE trim:
Emergency wheel

Heated front seats

Heated steering wheel
Available across all trims:
2 climate zones

Air conditioning (automatic)

Center arm rest between front seats

Driver seat has lumbar support

Electric windows

Electrically adjustable front seats

ISOFIX installation points

Leather steering wheel

Multifunction steering wheel

Power steering
Available with the LUXE trim:
Adaptive bending lights (optional)

High-beam assist (optional)
Available across all trims:
Alloy wheels

Daytime running lights

Door mirrors electrically adjustable

Fog lights

Four-wheel drive

LED daytime running lights

LED headlights

Short wheel base

Sunroof
Available with the LUXE trim:
Collision warning system (optional)

Collision warning system with automatic braking (optional)

Dimming interior mirror

Emergency call system

Lane departure warning (optional)

Overtaking sensors (optional)

Rain sensor (optional)
Available across all trims:
Anti-lock Braking System (ABS)

Brake assist system

Disc brakes

Dusk sensor

Electronic traction control

Four-wheel drive

Front-driver airbag

Front-passenger airbag

Side airbag

Side curtain airbag

Stability control

Tire pressure indicator
Available with the LUXE trim:
360 degree camera (optional)

Adaptive cruise control (optional)

Android Auto

Apple CarPlay

Front sensors (optional)

Front view camera (optional)

MP3-CD player

Navigation system

Side sensors (optional)

Start stop system (optional)

WiFi (optional)
Available across all trims:
Bluetooth

CD player

Computer

Cruise control

Digital radio

Hill start assist

Keyless entry

Power door locks

Radio

Rear sensors

Rear view camera

Touchscreen

USB port for front passengers
2 engines are available with the LUXE trim:
City consumption:
11.2 L/100km
Highway consumption:
8.5 L/100km
City consumption:
12.3 L/100km
Highway consumption:
8.6 - 8.7 L/100km
SPORT trim features and specs
Available with the SPORT trim:
Emergency wheel

Heated front seats

Heated steering wheel

Paddle shifters
Available across all trims:
2 climate zones

Air conditioning (automatic)

Center arm rest between front seats

Driver seat has lumbar support

Electric windows

Electrically adjustable front seats

ISOFIX installation points

Leather steering wheel

Multifunction steering wheel

Power steering
Available with the SPORT trim:
Adaptive bending lights (optional)

High-beam assist (optional)
Available across all trims:
Alloy wheels

Daytime running lights

Door mirrors electrically adjustable

Fog lights

Four-wheel drive

LED daytime running lights

LED headlights

Short wheel base

Sunroof
Available with the SPORT trim:
Collision warning system (optional)

Collision warning system with automatic braking (optional)

Dimming interior mirror

Emergency call system

Lane departure warning (optional)

Overtaking sensors (optional)

Rain sensor (optional)
Available across all trims:
Anti-lock Braking System (ABS)

Brake assist system

Disc brakes

Dusk sensor

Electronic traction control

Four-wheel drive

Front-driver airbag

Front-passenger airbag

Side airbag

Side curtain airbag

Stability control

Tire pressure indicator
Available with the SPORT trim:
360 degree camera (optional)

Adaptive cruise control (optional)

Android Auto

Apple CarPlay

Front sensors (optional)

Front view camera (optional)

MP3-CD player

Navigation system

Side sensors (optional)

WiFi (optional)
Available across all trims:
Bluetooth

CD player

Computer

Cruise control

Digital radio

Hill start assist

Keyless entry

Power door locks

Radio

Rear sensors

Rear view camera

Touchscreen

USB port for front passengers
1 engine is available with the SPORT trim:
City consumption:
12.3 L/100km
Highway consumption:
8.6 - 8.7 L/100km
I-LINE RED SPORT trim features and specs
Available with the I-LINE RED SPORT trim:
Emergency wheel

Heated front seats

Heated steering wheel

Paddle shifters

Tire repair kit (optional)
Available across all trims:
2 climate zones

Air conditioning (automatic)

Center arm rest between front seats

Driver seat has lumbar support

Electric windows

Electrically adjustable front seats

ISOFIX installation points

Leather steering wheel

Multifunction steering wheel

Power steering
Available with the I-LINE RED SPORT trim:
Adaptive bending lights (optional)

High-beam assist (optional)
Available across all trims:
Alloy wheels

Daytime running lights

Door mirrors electrically adjustable

Fog lights

Four-wheel drive

LED daytime running lights

LED headlights

Short wheel base

Sunroof
Available with the I-LINE RED SPORT trim:
Collision warning system

Collision warning system with automatic braking

Dimming interior mirror

Emergency call system

Lane departure warning

Overtaking sensors (optional)

Rain sensor
Available across all trims:
Anti-lock Braking System (ABS)

Brake assist system

Disc brakes

Dusk sensor

Electronic traction control

Four-wheel drive

Front-driver airbag

Front-passenger airbag

Side airbag

Side curtain airbag

Stability control

Tire pressure indicator
Available with the I-LINE RED SPORT trim:
360 degree camera

Adaptive cruise control (optional)

Android Auto

Apple CarPlay

Front sensors

Front view camera

Navigation system

Side sensors

WiFi (optional)
Available across all trims:
Bluetooth

CD player

Computer

Cruise control

Digital radio

Hill start assist

Keyless entry

Power door locks

Radio

Rear sensors

Rear view camera

Touchscreen

USB port for front passengers
1 engine is available with the I-LINE RED SPORT trim:
City consumption:
12.5 L/100km
Highway consumption:
9.2 L/100km
Dimensions of the Infiniti Q60
Vehicle dimensions

Year

Height from

Width from

Length from

Exact values depend on trim choices.

2020

1395 mm

1850 mm

4685 mm

2019

1395 mm

1850 mm

4685 mm

2018

1395 mm

1850 mm

4685 mm