Skip to main content
Your browser is out of date
Some features may not be available. For the best experience, upgrade your browser.
Upgrade now
Info & specs
Jeep Renegade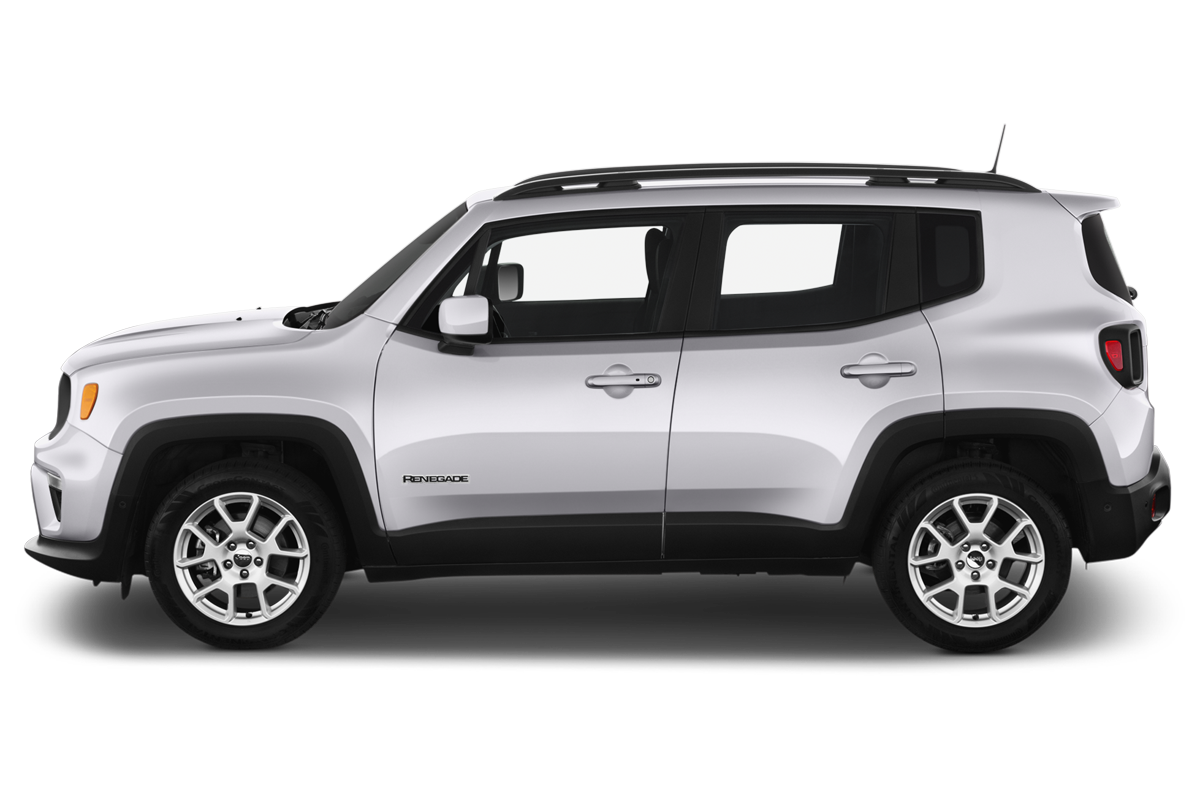 Safety ratings of the Jeep Renegade

Safety ratings provided by NHTSA
Frontal crash rating

Side crash rating

Rollover rating

Number of airbags

7
Specifications of the Jeep Renegade
Key specifications available across all trim levels
Seats

5

Doors

5

Fuel type

Gas

Transmission

Manual or Automatic

City consumption

9.9 - 11.2 L/100km

Highway consumption

7.5 - 8.7 L/100km

Width

1803 - 1887 mm

Length

4232 mm

Trunk space

524 L

Cargo space

1438 L
Exact values depend on trim and engine choice.
Trims available with the Jeep Renegade
What is a trim? Trims are different options of the same car with different features and equipment. The specs depend on the trim you choose.
This variant of the Jeep Renegade 2015 - present is available in 12 trims:
Jeepster trim features and specs
Available with the Jeepster trim:
2 climate zones

Air conditioning (automatic)

Heated front seats

Tire repair kit
Available across all trims:
Center arm rest between front seats

Electric windows

ISOFIX installation points

Multifunction steering wheel

Power steering
Available with the Jeepster trim:
Alloy wheels

Door mirrors electrically adjustable

Four-wheel drive (optional)

Standard roof
Available across all trims:
Daytime running lights

Short wheel base
Available with the Jeepster trim:
Available across all trims:
Anti-lock Braking System (ABS)

Brake assist system

Disc brakes

Electronic traction control

Four-wheel drive

Front-driver airbag

Front-passenger airbag

Knee airbag

Side airbag

Side curtain airbag

Stability control

Tire pressure indicator
Available with the Jeepster trim:
Android Auto

Apple CarPlay

Bluetooth

Cruise control

Rear sensors

Rear view camera
Available across all trims:
Computer

Hill start assist

Power door locks

Radio

Touchscreen

USB port for front passengers
1 engine is available with the Jeepster trim:
City consumption:
10.8 - 11.2 L/100km
Highway consumption:
8.2 - 8.7 L/100km
Upland Edition trim features and specs
Available with the Upland Edition trim:
2 climate zones (optional)

Air conditioning (automatic) (optional)

Spare wheel (optional)

Tire repair kit
Available across all trims:
Center arm rest between front seats

Electric windows

ISOFIX installation points

Multifunction steering wheel

Power steering
Available with the Upland Edition trim:
Alloy wheels

Door mirrors electrically adjustable

Four-wheel drive

Standard roof

Sunroof (optional)
Available across all trims:
Daytime running lights

Short wheel base
Available across all trims:
Anti-lock Braking System (ABS)

Brake assist system

Disc brakes

Electronic traction control

Four-wheel drive

Front-driver airbag

Front-passenger airbag

Knee airbag

Side airbag

Side curtain airbag

Stability control

Tire pressure indicator
Available with the Upland Edition trim:
Android Auto

Apple CarPlay

Cruise control

Digital radio (optional)

Keyless entry

Rear sensors

Rear view camera
Available across all trims:
Computer

Hill start assist

Power door locks

Radio

Touchscreen

USB port for front passengers
1 engine is available with the Upland Edition trim:
City consumption:
11.2 L/100km
Highway consumption:
8 L/100km
Upland trim features and specs
Available with the Upland trim:
2 climate zones (optional)

Air conditioning (automatic) (optional)

Spare wheel (optional)

Tire repair kit
Available across all trims:
Center arm rest between front seats

Electric windows

ISOFIX installation points

Multifunction steering wheel

Power steering
Available with the Upland trim:
Alloy wheels

Door mirrors electrically adjustable

Fog lights

Four-wheel drive

High-beam assist (optional)

Standard roof

Sunroof (optional)
Available across all trims:
Daytime running lights

Short wheel base
Available with the Upland trim:
Collision warning system (optional)

Lane departure warning (optional)

Overtaking sensors (optional)
Available across all trims:
Anti-lock Braking System (ABS)

Brake assist system

Disc brakes

Electronic traction control

Four-wheel drive

Front-driver airbag

Front-passenger airbag

Knee airbag

Side airbag

Side curtain airbag

Stability control

Tire pressure indicator
Available with the Upland trim:
Android Auto

Apple CarPlay

Cruise control

Digital radio (optional)

Rear sensors

Rear view camera
Available across all trims:
Computer

Hill start assist

Power door locks

Radio

Touchscreen

USB port for front passengers
2 engines are available with the Upland trim:
Transmission:
Manual or Automatic
City consumption:
11.2 L/100km
Highway consumption:
8.2 L/100km
Islander trim features and specs
Available with the Islander trim:
2 climate zones

Air conditioning (automatic)

Heated front seats

Heated steering wheel

Leather steering wheel

Tire repair kit
Available across all trims:
Center arm rest between front seats

Electric windows

ISOFIX installation points

Multifunction steering wheel

Power steering
Available with the Islander trim:
Alloy wheels

Door mirrors electrically adjustable

Fog lights

Four-wheel drive

Standard roof

Sunroof
Available across all trims:
Daytime running lights

Short wheel base
Available with the Islander trim:
Dimming interior mirror

Dusk sensor

Rain sensor
Available across all trims:
Anti-lock Braking System (ABS)

Brake assist system

Disc brakes

Electronic traction control

Four-wheel drive

Front-driver airbag

Front-passenger airbag

Knee airbag

Side airbag

Side curtain airbag

Stability control

Tire pressure indicator
Available with the Islander trim:
Android Auto

Apple CarPlay

Bluetooth

Cruise control

Rear sensors

Rear view camera
Available across all trims:
Computer

Hill start assist

Power door locks

Radio

Touchscreen

USB port for front passengers
1 engine is available with the Islander trim:
City consumption:
11.2 L/100km
Highway consumption:
8.2 L/100km
80th Anniversary trim features and specs
Available with the 80th Anniversary trim:
2 climate zones

Air conditioning (automatic)

Heated front seats

Heated steering wheel

Leather steering wheel

Tire repair kit
Available across all trims:
Center arm rest between front seats

Electric windows

ISOFIX installation points

Multifunction steering wheel

Power steering
Available with the 80th Anniversary trim:
Alloy wheels

Door mirrors electrically adjustable

Fog lights

Four-wheel drive

Standard roof

Sunroof (optional)
Available across all trims:
Daytime running lights

Short wheel base
Available with the 80th Anniversary trim:
Dimming interior mirror

Dusk sensor

Rain sensor
Available across all trims:
Anti-lock Braking System (ABS)

Brake assist system

Disc brakes

Electronic traction control

Four-wheel drive

Front-driver airbag

Front-passenger airbag

Knee airbag

Side airbag

Side curtain airbag

Stability control

Tire pressure indicator
Available with the 80th Anniversary trim:
Android Auto

Apple CarPlay

Bluetooth

Cruise control

Digital radio

Navigation system

Rear sensors

Rear view camera
Available across all trims:
Computer

Hill start assist

Power door locks

Radio

Touchscreen

USB port for front passengers
1 engine is available with the 80th Anniversary trim:
City consumption:
11.2 L/100km
Highway consumption:
8.2 L/100km
Sport trim features and specs
Available with the Sport trim:
2 climate zones (optional)

Air conditioning (automatic) (optional)

Heated front seats (optional)

Spare wheel (optional)

Tire repair kit
Available across all trims:
Center arm rest between front seats

Electric windows

ISOFIX installation points

Multifunction steering wheel

Power steering
Available with the Sport trim:
Alloy wheels (optional)

Door mirrors electrically adjustable (optional)

Four-wheel drive (optional)

High-beam assist (optional)

Standard roof

Steel wheels

Sunroof (optional)
Available across all trims:
Daytime running lights

Short wheel base
Available with the Sport trim:
Collision warning system (optional)

Front-wheel drive

Lane departure warning (optional)

Overtaking sensors (optional)
Available across all trims:
Anti-lock Braking System (ABS)

Brake assist system

Disc brakes

Electronic traction control

Four-wheel drive

Front-driver airbag

Front-passenger airbag

Knee airbag

Side airbag

Side curtain airbag

Stability control

Tire pressure indicator
Available with the Sport trim:
Android Auto (optional)

Apple CarPlay (optional)

Bluetooth (optional)

Cruise control (optional)

Digital radio (optional)

Keyless entry (optional)

Rear sensors (optional)

Rear view camera (optional)
Available across all trims:
Computer

Hill start assist

Power door locks

Radio

Touchscreen

USB port for front passengers
4 engines are available with the Sport trim:
Transmission:
Manual or Automatic
City consumption:
9.9 L/100km
Highway consumption:
7.5 - 7.7 L/100km
City consumption:
10.8 - 11.2 L/100km
Highway consumption:
7.7 - 8.7 L/100km
Transmission:
Automatic or Manual
75th Anniversary Edition trim features and specs
Available with the 75th Anniversary Edition trim:
2 climate zones (optional)

Air conditioning (automatic) (optional)

Driver seat has lumbar support (optional)

Electrically adjustable front seats (optional)

Heated front seats (optional)

Heated steering wheel (optional)

Leather steering wheel

Spare wheel (optional)

Tire repair kit
Available across all trims:
Center arm rest between front seats

Electric windows

ISOFIX installation points

Multifunction steering wheel

Power steering
Available with the 75th Anniversary Edition trim:
Alloy wheels

Door mirrors electrically adjustable

Fog lights

Four-wheel drive (optional)

Sunroof
Available across all trims:
Daytime running lights

Short wheel base
Available with the 75th Anniversary Edition trim:
Dimming interior mirror (optional)

Dusk sensor

Front-wheel drive

Overtaking sensors (optional)
Available across all trims:
Anti-lock Braking System (ABS)

Brake assist system

Disc brakes

Electronic traction control

Four-wheel drive

Front-driver airbag

Front-passenger airbag

Knee airbag

Side airbag

Side curtain airbag

Stability control

Tire pressure indicator
Available with the 75th Anniversary Edition trim:
Bluetooth

Cruise control

Keyless entry

Navigation system (optional)

Rear sensors (optional)

Rear view camera (optional)
Available across all trims:
Computer

Hill start assist

Power door locks

Radio

Touchscreen

USB port for front passengers
2 engines are available with the 75th Anniversary Edition trim:
City consumption:
9.9 L/100km
Highway consumption:
7.5 L/100km
Trailhawk trim features and specs
Available with the Trailhawk trim:
2 climate zones (optional)

Air conditioning (automatic) (optional)

Driver seat has lumbar support (optional)

Electrically adjustable front seats (optional)

Heated front seats (optional)

Heated steering wheel (optional)

Leather steering wheel

Spare wheel
Available across all trims:
Center arm rest between front seats

Electric windows

ISOFIX installation points

Multifunction steering wheel

Power steering
Available with the Trailhawk trim:
Alloy wheels

Door mirrors electrically adjustable

Fog lights

Four-wheel drive

LED daytime running lights (optional)

LED headlights (optional)

Standard roof

Sunroof (optional)

Xenon headlights (optional)
Available across all trims:
Daytime running lights

Short wheel base
Available with the Trailhawk trim:
Dimming interior mirror (optional)

Dusk sensor

Overtaking sensors (optional)

Rain sensor (optional)
Available across all trims:
Anti-lock Braking System (ABS)

Brake assist system

Disc brakes

Electronic traction control

Four-wheel drive

Front-driver airbag

Front-passenger airbag

Knee airbag

Side airbag

Side curtain airbag

Stability control

Tire pressure indicator
Available with the Trailhawk trim:
Android Auto

Apple CarPlay

Bluetooth

Cruise control

Digital radio (optional)

Keyless entry (optional)

Navigation system (optional)

Rear sensors (optional)

Rear view camera (optional)

Start stop system (optional)
Available across all trims:
Computer

Hill start assist

Power door locks

Radio

Touchscreen

USB port for front passengers
3 engines are available with the Trailhawk trim:
City consumption:
10.8 L/100km
Highway consumption:
8.7 L/100km
City consumption:
11.2 L/100km
Highway consumption:
8 L/100km
City consumption:
11.2 L/100km
Highway consumption:
8 L/100km
High Altitude trim features and specs
Available with the High Altitude trim:
2 climate zones

Air conditioning (automatic)

Driver seat has lumbar support

Electrically adjustable front seats

Heated front seats

Heated steering wheel

Leather steering wheel

Spare wheel (optional)

Tire repair kit
Available across all trims:
Center arm rest between front seats

Electric windows

ISOFIX installation points

Multifunction steering wheel

Power steering
Available with the High Altitude trim:
Alloy wheels

Door mirrors electrically adjustable

Fog lights

Four-wheel drive

High-beam assist (optional)

LED daytime running lights

LED headlights

Standard roof

Sunroof (optional)
Available across all trims:
Daytime running lights

Short wheel base
Available with the High Altitude trim:
Collision warning system (optional)

Dimming interior mirror

Dusk sensor

Lane departure warning (optional)

Overtaking sensors (optional)

Rain sensor
Available across all trims:
Anti-lock Braking System (ABS)

Brake assist system

Disc brakes

Electronic traction control

Four-wheel drive

Front-driver airbag

Front-passenger airbag

Knee airbag

Side airbag

Side curtain airbag

Stability control

Tire pressure indicator
Available with the High Altitude trim:
Android Auto

Apple CarPlay

Bluetooth

Cruise control

Digital radio (optional)

Keyless entry

Navigation system

Rear sensors

Rear view camera
Available across all trims:
Computer

Hill start assist

Power door locks

Radio

Touchscreen

USB port for front passengers
1 engine is available with the High Altitude trim:
City consumption:
10.1 L/100km
Highway consumption:
8.1 L/100km
Limited trim features and specs
Available with the Limited trim:
2 climate zones

Air conditioning (automatic)

Driver seat has lumbar support

Electrically adjustable front seats

Heated front seats

Heated steering wheel

Leather steering wheel

Spare wheel (optional)

Tire repair kit
Available across all trims:
Center arm rest between front seats

Electric windows

ISOFIX installation points

Multifunction steering wheel

Power steering
Available with the Limited trim:
Alloy wheels

Door mirrors electrically adjustable

Fog lights

Four-wheel drive

High-beam assist (optional)

LED daytime running lights (optional)

LED headlights (optional)

Standard roof

Sunroof (optional)

Xenon headlights (optional)
Available across all trims:
Daytime running lights

Short wheel base
Available with the Limited trim:
Collision warning system (optional)

Collision warning system with automatic braking (optional)

Dimming interior mirror

Dusk sensor

Lane departure warning (optional)

Overtaking sensors (optional)

Rain sensor (optional)
Available across all trims:
Anti-lock Braking System (ABS)

Brake assist system

Disc brakes

Electronic traction control

Four-wheel drive

Front-driver airbag

Front-passenger airbag

Knee airbag

Side airbag

Side curtain airbag

Stability control

Tire pressure indicator
Available with the Limited trim:
Android Auto

Apple CarPlay

Bluetooth

Cruise control

Digital radio (optional)

Keyless entry (optional)

Navigation system (optional)

Rear sensors

Rear view camera
Available across all trims:
Computer

Hill start assist

Power door locks

Radio

Touchscreen

USB port for front passengers
3 engines are available with the Limited trim:
City consumption:
10.1 L/100km
Highway consumption:
8.1 L/100km
City consumption:
11.2 L/100km
Highway consumption:
8 L/100km
City consumption:
11.2 L/100km
Highway consumption:
8 L/100km
Altitude trim features and specs
Available with the Altitude trim:
2 climate zones (optional)

Air conditioning (automatic) (optional)

Driver seat has lumbar support (optional)

Electrically adjustable front seats (optional)

Heated front seats (optional)

Heated steering wheel (optional)

Leather steering wheel

Spare wheel (optional)

Tire repair kit
Available across all trims:
Center arm rest between front seats

Electric windows

ISOFIX installation points

Multifunction steering wheel

Power steering
Available with the Altitude trim:
Alloy wheels

Door mirrors electrically adjustable

Fog lights

Four-wheel drive (optional)

High-beam assist (optional)

LED daytime running lights (optional)

LED headlights (optional)

Standard roof

Sunroof (optional)

Xenon headlights (optional)
Available across all trims:
Daytime running lights

Short wheel base
Available with the Altitude trim:
Collision warning system (optional)

Collision warning system with automatic braking (optional)

Dimming interior mirror (optional)

Dusk sensor

Front-wheel drive

Lane departure warning (optional)

Overtaking sensors (optional)
Available across all trims:
Anti-lock Braking System (ABS)

Brake assist system

Disc brakes

Electronic traction control

Four-wheel drive

Front-driver airbag

Front-passenger airbag

Knee airbag

Side airbag

Side curtain airbag

Stability control

Tire pressure indicator
Available with the Altitude trim:
Android Auto

Apple CarPlay

Bluetooth

Cruise control

Digital radio (optional)

Keyless entry (optional)

Navigation system (optional)

Rear sensors (optional)

Rear view camera (optional)
Available across all trims:
Computer

Hill start assist

Power door locks

Radio

Touchscreen

USB port for front passengers
3 engines are available with the Altitude trim:
Transmission:
Manual or Automatic
City consumption:
9.9 L/100km
Highway consumption:
7.7 L/100km
City consumption:
10.8 - 11.2 L/100km
Highway consumption:
7.7 - 8.2 L/100km
Transmission:
Automatic or Manual
North trim features and specs
Available with the North trim:
2 climate zones (optional)

Air conditioning (automatic) (optional)

Driver seat has lumbar support (optional)

Electrically adjustable front seats (optional)

Heated front seats (optional)

Heated steering wheel (optional)

Leather steering wheel

Spare wheel (optional)

Tire repair kit
Available across all trims:
Center arm rest between front seats

Electric windows

ISOFIX installation points

Multifunction steering wheel

Power steering
Available with the North trim:
Alloy wheels

Door mirrors electrically adjustable

Fog lights

Four-wheel drive (optional)

High-beam assist (optional)

LED daytime running lights (optional)

LED headlights (optional)

Standard roof

Sunroof (optional)

Xenon headlights (optional)
Available across all trims:
Daytime running lights

Short wheel base
Available with the North trim:
Collision warning system (optional)

Collision warning system with automatic braking (optional)

Dimming interior mirror (optional)

Dusk sensor

Front-wheel drive

Lane departure warning (optional)

Overtaking sensors (optional)

Rain sensor (optional)
Available across all trims:
Anti-lock Braking System (ABS)

Brake assist system

Disc brakes

Electronic traction control

Four-wheel drive

Front-driver airbag

Front-passenger airbag

Knee airbag

Side airbag

Side curtain airbag

Stability control

Tire pressure indicator
Available with the North trim:
Android Auto

Apple CarPlay

Bluetooth

Cruise control

Digital radio (optional)

Keyless entry (optional)

Navigation system (optional)

Rear sensors (optional)

Rear view camera (optional)
Available across all trims:
Computer

Hill start assist

Power door locks

Radio

Touchscreen

USB port for front passengers
4 engines are available with the North trim:
Transmission:
Manual or Automatic
City consumption:
9.9 L/100km
Highway consumption:
7.5 - 7.7 L/100km
City consumption:
10.8 - 11.2 L/100km
Highway consumption:
7.7 - 8.2 L/100km
Transmission:
Automatic or Manual