Skip to main content
Info & specs
Maserati Granturismo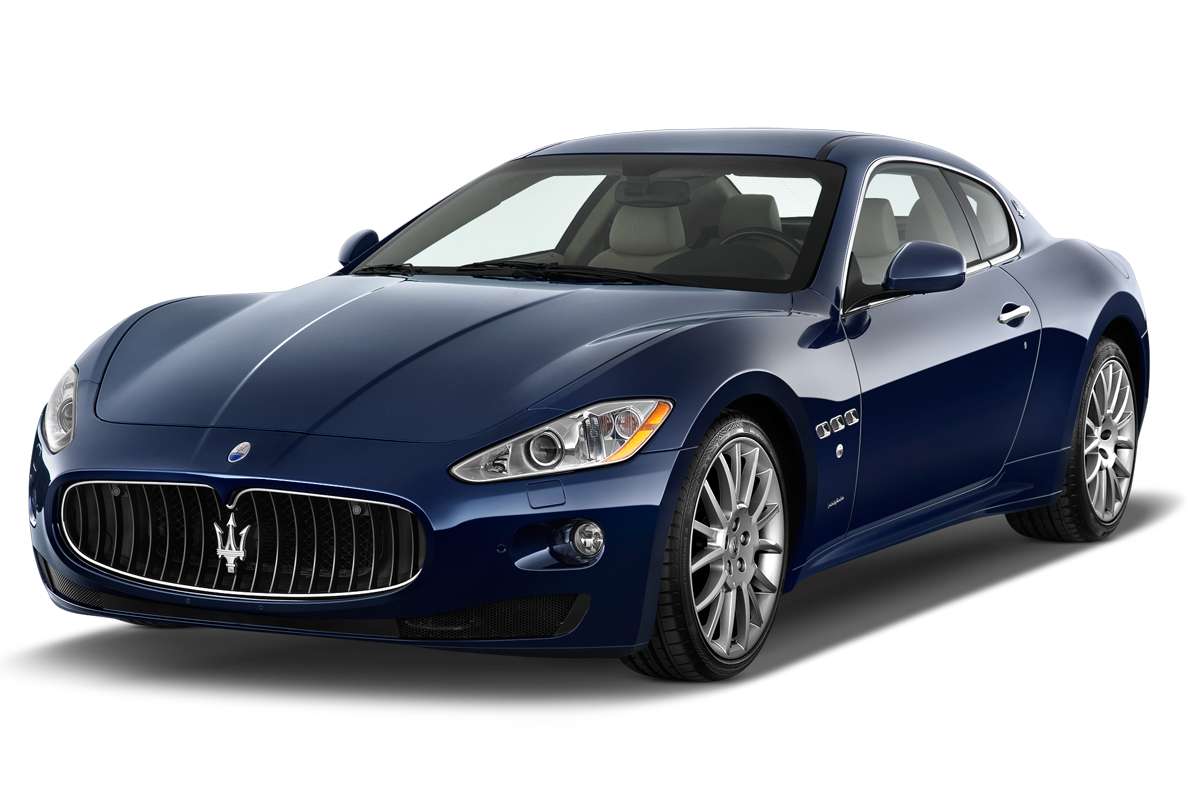 Overview of the Maserati Granturismo
Learn about the Maserati Granturismo
Summary
The Maserati GranTurismo is a luxury sports car designed for both speed and touring the countryside. Production of this sporty Italian model began in 2008 for the coupe and 2010 for the convertible. The sleek exterior and roaring engine are just some of the reasons that new models are so attractive to high-end buyers. All trims are decked out with lavish interior upholstery and a premium sound system. It may lack advanced driver-assistance aids and back seat space, but the Maserati GranTurismo delivers an exhilarating driving experience.
Safety
The all-new Maserati GranTurismo does not offer a multitude of driver assistance aids like lane-departure warning and cross-traffic alerts, but it still delivers substantial safety features, such as:
Adaptive Light Control – the lights swivel to follow the road

Advanced Brake Assist – to help you stop faster in an emergency

Rearview camera (available since 2018)

Front- and side-mounted airbags
Interior
The Maserati GranTurismo coupe and convertible are sleek and luxurious, with an interior that has not changed significantly in the last 10 years. For example, the 2013 coupe is decked out in a sophisticated leather interior with wood trim and well-placed controls. A centre console provides some small storage space and buyers of new vehicles can select their own stitch colour for the leather upholstery. The front seats are heated and comfortable for longer journeys.
Technology
In 2018, the Maserati GranTurismo coupe and convertible were updated with a modern 8.4-inch infotainment system, which includes Android Auto and Apple CarPlay. Harmon Kardon speakers are featured on new models. The 2010 models come with Bose surround-sound speakers and speed-sensitive volume control. Drivers can sync up their phones and music through Bluetooth technology and a USB connector. A navigation system is also standard. Satellite radio and a subwoofer speaker have been standard across all trims since 2012.
Space
The Maserati GranTurismo seats four passengers, with a centre console separating the two back seats. Power front seats give more room to passengers climbing into the back row. The back seat is better suited for smaller passengers, as it can be a bit of a tight squeeze once everyone is in place. The convertible power top can be deployed in under thirty seconds, giving passengers a whole new riding experience. Despite its limited space in the trunk and backseat, the front row is spacious with supportive seats.
Comfort
The Maserati GranTurismo offers drivers different riding experiences with multiple suspension modes. The comfort mode is intended for grand touring adventures and long road trips, while sport mode delivers a firmer and more agile ride. While the V8 engine has thrilling acceleration, it does not speed up as fast as other models. Still, drivers who have their eye on a Maserati will be happy with the raspy engine noises that epitomize the brand, so expect to hear that roar from inside the vehicle.
Pros and cons of the Maserati Granturismo
Powerful engine options

Beautiful, sleek design

Sharp and agile handling
Back seats can feel cramped for adults

Lacks driver-assistance features compared to others

Cabin features and technology may seem dated
This is general information and should not be relied on as purchasing advice.
Specifications of the Maserati Granturismo
Key specifications available across all trim levels
Seats

4

Doors

2

Fuel type

Gas

Transmission

Automatic or Manual

City consumption

16.3 - 18.2 L/100km

Highway consumption

10 - 11.4 L/100km

Width

1846 - 1915 mm

Length

4881 mm

Trunk space

261 L

Cargo space

261 L
Exact values depend on trim and engine choice.
Trims available with the Maserati Granturismo
What is a trim? Trims are different options of the same car with different features and equipment. The specs depend on the trim you choose.
This variant of the Maserati Granturismo 2008 - 2019 is available in 1 trim:
Basic trim features and specs
2 climate zones

Air conditioning (automatic)

Center arm rest between front seats

Driver seat has lumbar support

Electric windows

Electrically adjustable front seats

Emergency wheel (optional)

Front seats have lumbar support

Heated front seats

ISOFIX installation points

Leather steering wheel

Multifunction steering wheel

Paddle shifters

Passenger seat has lumbar support (optional)

Power steering

Rear seat ski hatch

Sport seats in the front

Tire repair kit
Adaptive bending lights

Alloy wheels

Bi-Xenon headlights

Daytime running lights

Door mirrors electrically adjustable

Fog lights

Headlight cleaners

LED daytime running lights (optional)

Short wheel base
Anti-lock Braking System (ABS)

Brake assist system

Dimming interior mirror

Disc brakes

Dusk sensor

Electronic traction control

Front-driver airbag

Front-passenger airbag

Rain sensor

Rear-wheel drive

Side airbag

Side curtain airbag (optional)

Stability control

Tire pressure indicator
Android Auto

Apple CarPlay

Bluetooth (optional)

CD player (optional)

Computer

Cruise control

Front sensors (optional)

Hill start assist (optional)

MP3-CD player (optional)

Navigation system

Power door locks

Radio

Rear sensors

Rear view camera

Satellite radio (optional)

Speed limiter (optional)

Touchscreen (optional)

USB port for front passengers
5 engines are available with the Basic trim:
City consumption:
16.3 - 16.7 L/100km
Highway consumption:
10.1 - 10.3 L/100km
City consumption:
18 L/100km
Highway consumption:
10.5 L/100km
Transmission:
Manual or Automatic
City consumption:
18 L/100km
Highway consumption:
10.5 L/100km
City consumption:
18 L/100km
Highway consumption:
10.5 L/100km
City consumption:
16.3 - 18.2 L/100km
Highway consumption:
10 - 11.4 L/100km
Frequently asked questions about the Maserati Granturismo
The manufacturer's suggested retail price of the 2019 Maserati GranTurismo starts at $211,000. Buyers can find used models for under $40,000.
Yes. The Maserati GranTurismo convertible has been available in North America since 2010. It's called the Maserati GT Convertible.
Like all luxury vehicles, the Maserati GranTurismo can be expensive to maintain due to the cost of high-performance replacement parts.
No. The Maserati GranTurismo is only available in rear-wheel drive.
The Maserati GranTurismo has a high-performance engine, so expect to spend a little bit more money at the gas pump.