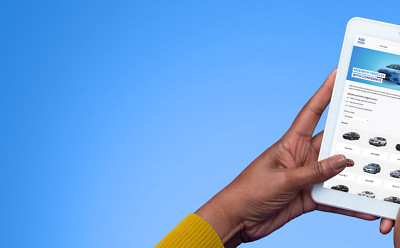 How to buy vehicles from
home during COVID-19
A message from Kijiji Autos
Every day millions of Canadians turn to Kijiji Autos to easily find their next vehicle with confidence. But, right now we're asking each and every Canadian to stay home. That's why we're echoing Health Canada's request to practice physical distancing and help stop the spread of COVID-19. 
Staying at home doesn't mean you can't move forward. Our app now makes it even more convenient for everyone to research their next car or truck. Many of our trusted dealer partners are offering online financing, online purchasing, home delivery and more to make finding your next ride easy. As these services become available at dealerships, they are being prominently displayed on vehicle listings on Kijiji Autos.
We've also provided answers below to the most common questions our community members are asking about buying a vehicle during this time in Canada. 
Your well-being remains our top priority. Please seriously consider whether in-person meetings are necessary and visit our Help Desk for more information and further guidance. 
New Dealer Services
Like so many businesses across Canada, car dealers affected by temporary COVID-19 closures are doing their best to serve their communities and keep everyone safe. Below is a full list of services they offer during this time to make researching your next car easy. Each dealer now displays those that apply to them on their vehicle listings.
Your financial eligibility can be assessed and approved online
Vehicle can be delivered to your address to minimise social interaction
Vehicles can be appraised through photos or video at this time
The entire purchasing process can be completed from the comfort of your home
Scheduled maintenance and repairs are currently being offered
Dealer can be consulted via video conferencing in lieu of in-person appointments
Flexible options that let you buy now and pay later are available on select vehicles at this time
The dealership is maintaining operations and responding to messages and calls
Dealership showroom is now open by appointment only.. Please call or email the dealer to confirm and book your appointment. 
The dealership is responding to messages and calls while its showroom is temporarily closed to in-person visits.
Your vehicle can be picked up for servicing and returned to you
Easy return or exchange is available in case you're dissatisfied with your purchase 
Frequently Asked Questions
The health and safety of our community is always our top priority. During COVID-19, we're asking Canadians to adhere to Health Canada's recommendations to avoid non-essential gatherings and practice physical distancing. With Kijiji Autos you can find your next car without leaving your home. Learn more about our health precautions on our Help Desk. 
Our guided search filters make it easy to browse and narrow down available vehicles in your area. Plus, our instant price analysis lets you compare prices to similar models in your area, and you can speak directly to dealers and private sellers with in-app messaging. Check out our all-new, driver-inspired model overview pages to confidently research your next ride from home today.
Dealerships across Canada are following local regulations. We encourage Canadians to review the recommended COVID-19 precautions in their province. Many dealerships have also adjusted their offerings to adjust to our current circumstances.
If you're paying for your car in cash to a private seller, we recommend using a cashless payment option. Banks and lending institutions are still open to provide financial services, although most banks have limited hours. Contact your branch for more information. 
If you need to meet in person, ensure you maintain a distance of at least 2 arms-length (approximately 2 metres). When transacting in person, please keep in mind our Safety Tips.
Most importantly, please stay home if you're sick or if someone in your household is sick. Follow Health Canada's guidance and wait until everyone in your household is better before making a transaction.
Government services are still in operation across Canada, although most departments advise against visiting a vehicle registration centre unless absolutely necessary. You may be able to complete most, if not all, registration forms and payments online. Check your provincial government's service website for more details. 
If you have no choice but to visit a physical location in order to register your car and pick up a license plate, remember to practice safe physical distancing and practice frequent handwashing.
The rules for essential services differ across the country. Check with your provincial government to determine if dealerships are open in your province. While physical distancing continues, users can browse thousands of online listings on Kijiji Autos and confidently connect with a dealer from home today. 
If you need to sell your car during this time, we strongly recommend you follow these precautions: practice physical distancing according to Health Canada, avoid going out at the first sign of sickness, and remember to thoroughly wash and disinfect your hands and surfaces.
If you need to sell your car, you will need to clean it thoroughly. Health Canada offers guidelines for disinfectants that are effective against COVID-19. Pay special attention to high-contact areas such as the steering wheel, door handles, keys, gear shift and manual controls. Avoid using bleach or hydrogen peroxide on your car's surfaces and be sure to wear gloves.
Like other businesses, Canadian car dealers are adapting to the new reality we're facing in light of COVID-19. While Canadians practice physical distancing, Kijiji Autos acts as your online showroom connecting you with dealers. Many of our dealer partners are offering a variety of digital car selling services to help you research from home today.