Skip to main content
Browse by category
Family Cars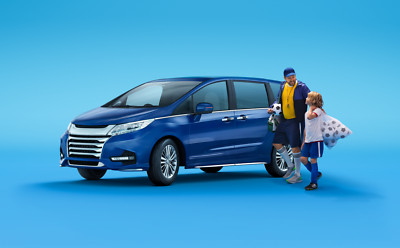 Are you searching for a new family car? There is a huge range of vehicles to choose from, including five- seat sedans, five- and eight-seat crossover utility vehicles, station wagons, eight-seat sport utility vehicles and minivans. Affordability and style are two key factors when buying a family car, but you'll also want to consider: seating and storage, the vehicle's safety record, reliability and economy of operation. A family car needs to carry groceries, camping gear, sports equipment and everything else a family needs to haul on a regular basis.
Space and comfort
A sedan might fit the bill for a family of four, but when there are five people to fit in the car someone ends up sitting in the middle rear seat, which can be rather uncomfortable, especially on long road trips. The trunk of a family car needs to be spacious and adaptable (think fold-down rear seatbacks). If you need to tow a small trailer or boat, you should consider a crossover utility vehicle (CUV) or sport utility vehicle (SUV).
Most CUVs and smaller five-seat SUVs in Canada are sold in all-wheel-drive configuration only, which provides an extra measure of safety. Rear storage, however, can be limited if rear seats are used for passengers. The towing capability of these vehicles is greater than a sedan, but still limited due to smaller engine sizes. Larger three-row SUVs have room for seven or eight passengers with decent storage behind the rear seats and considerable space when the third row is folded down. These vehicles are especially useful for carrying items such as hockey gear, camping equipment and bicycles. Usually powered by V6 or V8 engines, these SUVs can tow a sizeable trailer.
Other options
Station wagons are another alternative for family vehicles with some power and adequate space. Their ride height is lower than the CUVs and SUVs, but they generally have more accessible cargo space than a sedan. Some station wagons come with all-wheel drive and four or six-cylinder engines. Their towing capability is on par with a sedan.
Minivans have the most to offer when it comes to space and storage. They almost always come in three- row configuration, which means there is room for seven or eight passengers with excellent cargo space. Some minivans come with all-wheel drive and they offer a wide variety of powertrains. These vehicles can carry anything an SUV would be able to accommodate. Towing ability depends on powertrain, but is limited.
Top tips for family car buyers:
Consider the size of your family, both now and in the future

Check the fuel efficiency - this is especially important if your kids' schools and activities are far from home

Do some research on safety features and electronic aids

Check for child-friendly entertainment features such as built-in DVD players and Bluetooth connectivity for car speakers

Consider your future family travel plans to determine whether you want a vehicle with towing capability or 4-wheel drive for road trips

Consider the age and re-sale value of the car in case you decide to sell it in a few years
Get started on your search for the perfect family car below. These new and used family cars prioritize space and storage while delivering safety and reliability to keep the whole family comfortable.