Skip to main content
Browse by category
City Cars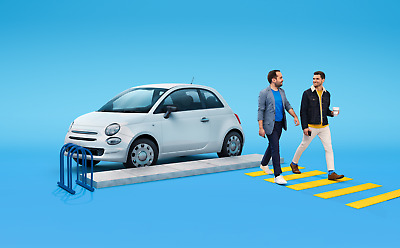 City cars are designed for urban driving. They are meant to get you to your destination quickly and safely, despite challenging city-driving conditions. These are fuel-efficient cars that feature front-wheel drive and are powered by four-cylinder engines. City cars can be downright stylish, and you can find a wide variety of interior amenities and technologies.
Different models
Some city cars come with manual transmissions, but most have CVT (continuously variable transmission) or automatic transmissions. You can also find hybrid cars and pure electric vehicles. Some city cars, including Mustang, Camaro and Challenger or two-seaters like MX-5, S2000, WRX, BRZ and 86, also fall under the sports car category.
Sizes and styles
City cars come in a variety of sizes: compact cars, small cars or what are referred to as micro cars or sub-compact cars. These vehicles are capable of nimbly darting through dense traffic while also withstanding urban potholes. The mini-utility segment alone has more than a dozen choices and these vehicles easily adapt from urban driving to transportation for a weekend getaway.
Small cars
Designers have made efficient use of space for people and cargo, and the smaller engines of city cars are generally fuel-efficient. Driving in the city also requires a car that offers good visibility and the ability to slip into small parking spots. Small cars can be the ideal way to make city driving easier and even a bit of fun. Smaller cars will also often work with a smaller budget.
Sporty style
Sports cars check off a lot of boxes on many drivers' wish lists, but there are some tradeoffs. Their low rooflines can reduce visibility and most are rear-wheel drive; which can be a challenge on slippery streets. Sports cars can also be a little less fuel-efficient than other models.
However, if style and fun are the most important factors for you, then a sports car will certainly fit the bill.
Top tips:
Decide what do you want from your city car. Will you use it only in the city? Or do you plan on taking trips into the countryside as well?

If you are looking for a sports car, decide whether you would prefer a coupe or a convertible

Do you want a two-seater? Two doors? A hatchback? Enough room for four people? Cargo space?

Your budget is an important factor, but you will have more options available to you in this car category

City cars may be small, but they can have a full suite of safety equipment including traction control and stability control, as well as options like parking assist, backup cameras, active cruise control and even automatic parking

Consider which type of transmission you would like - manual, CVT or automatic

Go for a test-drive and take note of the visibility, technical features, braking efficiency, handling and comfort
Our inventory below will help you find the best new or used city car or sports car for sale near you that will meet your needs and budget.