Skip to main content
Browse by category
Work Vehicles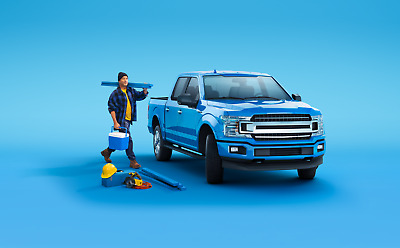 Are you looking for a new work truck or van? Do you want a cargo van with plenty of space for hauling boxes or material, or a powerful pickup truck that can haul a trailer or tote a sizeable payload? Maybe you need a rugged four-wheel drive to take on rough roads, or to take you into areas where thoroughfares are mere dirt trails. Whatever you're looking for, you'll find plenty of options to in the search results below.
The power factor
A work vehicle should be able to take on challenging situations, so you'll need to get all the power you can afford. Look for a vehicle that will get you there and bring you back. When searching for a work vehicle, the most important factor to consider after affordability is the kind of work you need to do with it.
Strength and storage
If you are working on sites that are accessible only by rough roads, a rugged vehicle with high clearance, 4-wheel drive and plenty of horsepower is a must. If you're sticking to the roads, but plan on carrying lots of cargo, a spacious van may be best to keep your tools, equipment and materials safe and secure. Larger box vans offer even more space, allowing you to make fewer trips and keep your gear organized, or store oft-used equipment in the vehicle.
Top tips:
Consider the type work of work you do, and what will be required from your vehicle to ensure you are looking at good matches

Check the hauling abilities and maximum towing capacity

Consider whether a smaller van or pickup will do the job, or whether you need a heavy- duty hauler

For off-road work, check clearance and 4-wheel drive capability. Determine whether the tires are all-terrain, mud-terrain or trail

Consider how many passengers you will need to carry. Will you need to bring a co-worker or client to a work site? Or will you need to bring an entire crew with you?

Calculate the storage space of the vehicle, and plan how your gear would fit inside
Check the search results below to find a new or used truck, van or car that can take on the challenges of your work. Our inventory includes new and used vehicles for sale in your area by private sellers and dealerships, so you can find the right work vehicle for your lifestyle.