How does trading in a vehicle work?
By Kijiji Autos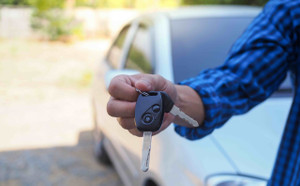 Trading in your current car is a great way to get a fair deal on your next vehicle. But the trade-in process may seem a bit confusing, especially if it's your first time doing it. Luckily, trading in your car can be fairly straightforward, even if you're still paying it off. Plus, with Kijiji Autos, you can now estimate the trade-in value of your vehicle online. It's one of the convenient and stress-free ways we're helping to modernize car shopping in Canada.
Let's start by answering some common questions:
How do car trade-ins work in Canada?
The basic concept of a vehicle trade-in is that you are selling your car to a dealership in exchange for a lower price on a new car. The first step in trading in your car is actually finding your next one. When you decide which vehicle you want to buy, the dealership can give you the option of trading in your current car. They typically assess the value of the car based on factors like make, model, year and condition and then subtract that value from the total owing on the car you want to buy.
It can be a great idea to do your own research before heading to the dealership to help make sure you're getting a fair deal.
Can I trade in a car that's not paid off?
It is possible to trade in a financed car that you are currently paying off. However, this is generally only a good deal if the trade-in value of the car is greater than the amount you still owe on your car loan. In this case, the dealership typically uses the trade-in value of the financed car to pay off the balance of your original loan and then apply the remainder towards your new car.
If the trade-in value of your car is less than the amount owing, it could be better to wait until you have positive equity. When you trade in a car with negative equity, meaning the amount owing is greater than the car's value, then the dealer will add the difference to your new financing deal, increasing your monthly payments to cover it.
What could be the benefits of trading in a car?
When it comes time to purchase your next vehicle, you can opt to keep, sell or trade-in your current car. Trading in your car could be more convenient than selling it privately. The dealership will inspect the vehicle and handle any registration paperwork, saving you time, hassle and money. The value of your car then acts as a downpayment, reducing your monthly car payments.
Easily find your next ride on Kijiji Autos
Search now