10 affordable convertible cars in Canada
By Kijiji Autos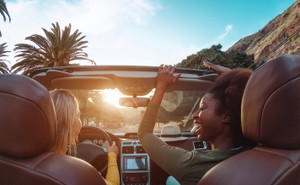 It may be cliché, but there honestly is nothing like feeling the wind in your hair as you cruise down the highway in a convertible with the top down. For some reason, however, many people do not believe that this is a possibility for them. There is an unwarranted idea that convertibles are only for the rich and famous. Truthfully, convertible cars in Canada can be an affordable option for most. 
Here, we explore 10 affordable convertible cars (in no particular order) to inspire you to dive into Kijiji Autos' listings and find your next vehicle.
1. BMW 4 Series
BMW is a company with a luxury brand name but surprisingly affordable options. The BMW 4 Series is an elegant machine with all the power expected of a sports car brands. And if the BMW 4 Series is out of the reach of your budget, the BMW 2 Series may be an option.
2. Ford Mustang
Whether you are looking for old convertible cars or something new, the Ford Mustang is worth a look. Even at its lowest trim, the Ford Mustang is a powerful machine. But it may be worth splurging for the V8 engine when it comes to the pony-badged car.
3. Mazda MX-5
If we are talking about sports cars under 80k let's not forget about the Mazda MX-5. Often called the Mazda Miata, this sporty vehicle is all about enjoying the experience of the drive. And with over 30 years of sales in North America, there are lots of great new and used options available.
4. Jeep Wrangler
There are many pros and cons of convertible cars, but you may not need to weigh them all to make a choice. The Jeep Wrangler is a utility vehicle with lots of versatility. This is one of the few cars on this list that is not only affordable but also practical for every season that Canada can (and will) throw.
5. Audi TT
There is something to be said for small convertible cars. They are nimble, speedy and exciting to drive. The Audi TT is all these things and more while remaining an affordable luxury option.
6. Volkswagen Beetle
This VW classic is affordable and available as a convertible. Why wouldn't we include the Volkswagen Beetle on this list? The unique design and easy manoeuvrability may not be for everyone. However, it is an excellent option for those looking for a fun convertible with a distinctive shape to drive around town.
7. Nissan 370Z
If purchasing a convertible is all about power for you, then do not overlook the Nissan 370Z Roadster. Loaded with a 3.7L V6 engine, the Nissan 370Z is a beast. But there is no compromise here, as the car is acclaimed for its impressive handling capabilities too.
8. Chevrolet Camaro
Sometimes a muscle car is just the way to go, and what better option is there than the Chevrolet Camaro? Not only is the Chevrolet Camaro available as a convertible, but its large range of trim packages will ensure you get the specific ride that you are searching for.
9. Jaguar F-Type
The Jaguar F-Type may be your most costly option on a list of affordable cars. However, the value is worth it with this high-performance roadster. Upscale and powerful, the extra splurge pays off with this elegant looking British convertible.
10. Smart ForTwo
The Smart ForTwo is a vehicle deserving of a mention on a list of the most affordable convertible cars. Practical for city driving, the Smart ForTwo is one of the most inexpensive convertible options that you can find. Plus, its low fuel economy will continue to keep money in your pocket for a long time.
Now that we have looked at some affordable convertible cars from 2021, you can start to search for your next vehicle. Browse the extensive catalogue of automobiles available on Kijiji Autos.
Easily find your next ride on Kijiji Autos
Search now