2023 Mazda 3 GX vs GS: What's The Difference?
By Kijiji Autos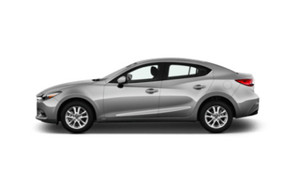 The 2023 Mazda 3 is a refined compact car with styling and performance that give it an upmarket feel. The Mazda 3 comes in sedan and hatchback body styles with all-wheel drive and manual transmission options available. The Mazda 3 stands out in its segment for its striking looks, stable handling and high-quality interior design.
The 2023 Mazda 3 comes in a range of trim levels with each step up adding more equipment and features but is a compelling choice even in its base GX trim with a good amount of safety equipment and infotainment coming as standard. Moving up to the more luxurious GS trim brings a range of hardware upgrades and features.
We'll explore both the GX and GS packages in this article to help you choose which is best for you. In this article, we'll break down the differences between the Mazda 3's GX and GS trim packages to help you decide which features you'd want to take or leave, as well as what they'd cost you.
What is the difference between the 2023 Mazda 3 GX and GS trims?
The Mazda 3 GX is the entry point into the Mazda 3 range while the GS is the next step up in terms of equipment and safety systems. The GX comes equipped with a selection of Mazda's i-Activsense safety systems including blind spot monitoring and rear cross-traffic alert, while the GS brings the whole suite with features like automatic braking with pedestrian detection, cruise control, automatic high beam headlights and driver attention alert.
Inside, the GS trim package brings luxuries like a leather-wrapped steering wheel and shift knob, a sunglasses cubby in the overhead console and a rear centre armrest with cup holders. Choosing the GS trim package also opens the possibility of ordering the GS Luxury Package which brings features like a power moonroof and ten-way power driver's seat.
Horsepower & torque
The standard engine for the 2023 Mazda 3 is a 2.0-litre four-cylinder that produces 155 horsepower and 150 lb.-ft. of torque. This is the motor found in the sedan and hatchback versions of the Mazda 3 GX as well as non-all-wheel drive versions of the Mazda 3 GS. All-wheel drive versions of the Mazda 3 GS come with a larger 2.5-litre four-cylinder which produces 191 horsepower and 186 lb.-ft. of torque.
Which engine you should go for depends on how you want to drive your new Mazda 3. The six-speed manual transmission is available with the sedan and hatchback versions of the GX as well as the hatchback version of the GS, so if you want to shift your own gears you should go with one of those. Similarly, adding all-wheel drive to the spec sheet means that Mazda's highly capable six-speed automatic will be handling shifting duties exclusively. All versions equipped with the GS Luxury Package come with automatics.
Fuel economy
Mazda has eked even better fuel economy from the family of Skyactiv-G four-cylinders with slight increases over its 2022 models. Front-wheel drive versions of the 2023 Mazda 3 are rated at 8.7 L/100km city and 6.7 L/100km highway, while all-wheel drive versions are slightly thirstier at 9.0 L/100km city and 7.1 L/100km highway.
Fuel economy is rated with city/highway numbers because highway driving is more efficient while city driving means a lot more stopping and starting. With values this close between front- and all-wheel drive the difference really comes down to whether you want the increased control of AWD or the slight efficiency gains of FWD.
Exterior
The Mazda 3 has won much praise for its sleek and upmarket exterior styling, with some reviewers saying that the Mazda 3's shapes make it look like the most expensive car in its segment despite costing less than some of its competitors. There are of course a few subtle differences between the GX and GS trim packages. The GX features a matte black front grille while the GS comes with chrome accents, and 16-inch silver finish aluminum alloy wheels denote the GX while the GS gets more wheel options.
Moonroof
The Mazda 3's power moonroof is available as an optional extra as part of the GS Luxury Package to let extra light into the cabin while keeping the elements out. It's certainly a nice feature to have and can make your Mazda 3 sedan or hatchback feel more like a convertible, minus messed-up hair. If that sounds good to you you'll be best off with the Mazda 3 GS upgraded with the Luxury Package.
Interior
The interior is another area where the Mazda 3 shines at any trim package thanks to design that reviewers have called minimalist without feeling like parts were left out and without pushing too many functions like HVAC to the infotainment screen. The GX is already a nicely-appointed car, and this is taken to the next level by the GS package which adds features like dual-zone climate control. The Luxury Package makes the Mazda 3's cabin an even nicer place to spend time with black leatherette seats and a ten-way adjustable power driver's seat including lumbar support and position memory.
Heated steering wheel
If you live in a cold climate and you're in the market for a car with a heated steering wheel the Mazda 3 GS will be the vehicle for you. The GS offers a heated, leather-wrapped steering wheel to keep your hands from freezing on cold mornings and gives you extra control by helping you grip the wheel.
Heated mirrors
The Mazda 3 GS also offers heated exterior mirrors whereas the entry-level GX does not. If you've ever been in a morning rush on a cold day you'll know the value of having heated exterior mirrors, especially when the alternative is opening the window and letting freezing air into the cabin to try and clear them while you drive. Heated mirrors are another example of the extra luxuries that you get with the Mazda 3 GS.
Auto-dimming rear-view mirror
Like the Mazda 3's power moonroof, an auto-dimming rear-view mirror is only available as part of the Luxury Package for the Mazda 3 GS. Auto-dimming rear-view mirrors can make driving at night safer and more enjoyable because you don't have to worry about being blinded by the headlights of vehicles behind you. This is especially valuable in a low-riding compact vehicle like the Mazda 3, as many vehicles on the road are taller with lights positioned right at rear-view mirror height.
Adaptive cruise control
If you want to get your hands on Mazda's radar-guided cruise control you'll need to order a Mazda 3 GS. This system constantly measures the distance to the car ahead and alters speed to maintain a safe following distance. The system also features what Mazda calls "Distance Recognition Support System" which gives the driver a dashboard readout of the distance to the vehicle ahead so they can maintain a safe gap in different weather conditions.
Lane departure warning, lane keeping assist and front collision mitigation
Again, it's the Mazda 3 GS trim package that unlocks the full suite of Mazda i-Activsense safety features over the GX. Lane departure warning, lane keeping assist and front collision mitigation all come standard on the GS, as do Smart City Brake Support with automatic forward braking, pedestrian detection, automatic high beam headlights and driver attention alert. 
With the GX you get advanced blind spot monitoring, rear cross-traffic alert and rear side airbags. The Mazda 3 received a 5-Star safety rating from the NHTSA and was named a Top Safety Pick+ by the IIHS meaning you're in good hands whichever Mazda 3 you choose.
Price
The 2023 Mazda 3 GX with front-wheel drive and the six-speed manual transmission starts at an MSRP of $21,600 in sedan form or $22,600 as a hatchback. Adding the automatic to either body style adds $1300 to each price, while the GS with FWD and the manual (only available as a hatchback) starts at $26,400. Again, adding an automatic to the GS recipe increases its price by $1300 to $25,400 for the sedan and $26,400 for the hatchback.
From there we move to the AWD GS cars, which are automatic-only and come with the larger 2.5-litre engines. These come in at $27,900 for the sedan and $28,400 for the hatchback. Adding the GS Luxury Package to any Mazda 3 GS costs $2500.
How to choose between the Mazda 3 GX & Mazda 3 GS
Whether you choose the Mazda 3 GX or GS depends on what features you want your car to have and how much you're willing to spend to get them. With an entry price of $21,600 the Mazda 3 GX gives you a lot of car (and style) for the money while moving up the trim package list unlocks options that give the Mazda 3 GS luxury features to match its looks. 
All-wheel drive and heated mirrors/steering wheel can be extremely useful in snowy climates but you can also get by without them if you feel you don't need them. Ultimately the decision comes down to what kind of car you want your Mazda 3 to be; inexpensive and playful or highly capable and luxurious. With a wide range of Mazda 3 for sale at Kijiji Autos you'll be able to find exactly what you're looking for.
Easily find your next ride on Kijiji Autos
Search now