Your Guide to Hatchback Cars in Canada
By Kijiji Autos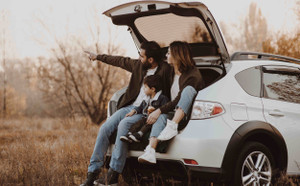 Hatchback cars are defined by their tailgate, which raises up to give access to the rear cargo area. Hatchbacks can feature two or four doors plus the tailgate, and follow what's known as a two-box design. The engine compartment at the front of the car makes up one box, with the second comprising the passenger cabin and cargo area. A sedan, by contrast, features a three-box design where a separate trunk lower than the vehicle's roof height makes up the third box. A hatchback car's rear seats can sometimes be folded forwards to provide a larger cargo area.
Benefits of a hatchback
Crossovers have become extremely popular in recent years thanks to their raised driving position. Many crossovers are built on shared platforms with hatchbacks with the only major difference being their ride height. While this allows for a better view of the road and makes drivers feel safer it also means that they use more fuel than hatchback cars. The higher a vehicle rides the less aerodynamic it is, meaning it uses more fuel than a vehicle with the same engine, transmission and other major components but a lower ride height. By sacrificing ride height for the lower driving position of a hatchback you could save money on gas.
Another benefit of the hatchback is practicality. That second box mentioned above can often handle larger cargo than a sedan or coupe thanks to its larger opening and uniform roof height throughout the cargo area.
What are some of the best hatchback cars in Canada
Hatchbacks come in a range of sizes and levels of luxury. Here is a selection of the best-rated recent hatchbacks, which should have something for everyone.
Ford Fiesta
Praised among small hatchback cars, the peppy Ford Fiesta has received positive reviews for its sharp handling. It features a well-built interior that keeps road noise at bay and returns excellent fuel economy as low as 4.9L/100 km. The Ford Fiesta was also available as a compact sedan, or with a turbocharged engine as the Ford Fiesta ST.
Volkswagen Golf
One of the perpetual leaders of the hatchback segment, the Volkswagen Golf is now in its 8th generation with up to 52.7 cubic feet of cargo space, available all-wheel drive and an all-electric e-Golf version. The latest generation of the Volkswagen Golf received praise for its ride quality, practicality, and for its eight-speed automatic gearbox which contributes to an overall smooth driving experience.
Honda Civic
Like the Ford Fiesta, the Honda Civic hatchback's handling was developed in Europe for exciting driving. The latest Honda Civic benefits from refinements to its styling and interior with tech improvements like a larger infotainment screen and upgraded driver assistance features.
Kia Soul
The Kia Soul is packed with personality and comes with a choice of three gasoline engines or an all-electric drivetrain offering 178 km of range to each charge. With funky, boxy styling making it look like a mini-SUV the Kia Soul stands out on the road while its practicality and spacious interior mean it can compete with the best of the hatchback segment. A suite of safety systems like automatic braking and rear cross-traffic alert come standard on recent models.
Fiat 500
The Fiat 500 features charming retro styling that pays homage to the original version of Fiat's groundbreaking city car. Its compact size makes it easy to park and well suited for city driving, while agile handling, a 101 horsepower engine and a manual gearbox make it a thrill to drive when the roads get twisty.
Mazda 3
The Mazda 3 has grown from a competent, enjoyable vehicle to luxurious and high-quality hatchback cars with great fuel economy and distinctive styling. Recent models offer powerful turbocharged engines and available all-wheel drive, receiving praise from reviewers for their design and nimble handling. The Mazda 3 is available as a hatchback or sedan.
Hot hatchbacks
Hatchbacks have long been associated with driving fun and "hot hatchbacks" as they came to be known, take this a step further. These vehicles can perform their practical everyday duties like any other car, but also provide drivers exciting handling and strong engines, often at a lower price than other more expensive and less practical performance cars. These are some popular choices among driving enthusiasts:
Volkswagen Golf GTI
The original Volkswagen Golf GTI became one of the world's first hot hatchbacks when it debuted in the 1970s and has flown the flag for exciting, practical cars ever since. The most recent generation received praise for being fun to drive in all conditions with sharp handling while a spacious interior keeps it practical. For drivers who want even more, the latest Volkswagen Golf R provides 315 horsepower, all-wheel drive and a drift mode for its traction control systems.
Ford Focus RS
Ford has produced a number of versions of the Ford Focus RS over the years, giving its larger hatchback car sporting credentials with more powerful motors and upgraded handling. Most recently, the Ford Focus RS came with a 350 horsepower turbocharged engine, sport front seats and an all-wheel drive system which provides confidence in wet or icy conditions.
Hyundai Veloster N
The Hyundai Veloster N hasn't been around as long as its hot hatch competition, but the new kid on the block can still thrill with 275 horsepower and a lower starting price than its rivals. Six-speed manual and eight-speed automatic transmissions are available. The Hyundai Veloster N allows drivers to customize their car's throttle response, adaptive dampers, limited-slip differential, exhaust volume and more.
Hatchbacks for sale at Kijiji Autos
Whether you're looking for efficient and practical small hatchback cars or a thrilling vehicle that can still haul kids, pets and groceries, Kijiji Autos has hatchback cars that match your needs. Kijiji Autos has a wide range of new and used hatchbacks for sale as well as a suite of advanced search filters to help you find the perfect vehicle quickly. For even more convenience, online financing can get you behind the wheel sooner. Start your search for a hatchback with Kijiji Autos today.
Easily find your next ride on Kijiji Autos
Search now