10 popular full size vans for your family or business
By Kijiji Autos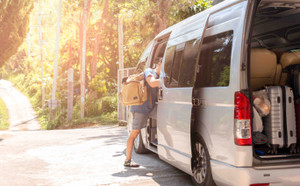 While SUVs and pickup trucks may rule the roads in Canada, versatile full size vans just might be the unsung heroes of the automotive world. Whether you need to transport people or goods, a large van can be a practical choice. Big vans offer a huge amount of passenger or cargo space, can be fitted into commercial or recreational vehicles, and some even offer impressive towing capacities. You might be wondering who makes full size vans or what is the best full size for family. Here are 10 of the top big vans for sale in Canada in 2022, in no particular order:
1. Ford Transit Passenger Van
With seating for up to 15 passengers, the Ford Transit Passenger Van is a great choice for large family vans or hospitality businesses. A convenient sliding side door makes loading and unloading easy, while tinted windows ensure passenger privacy. 
2. Ford Transit Cargo Van
The two-passenger Ford Transit Cargo Van is equipped with a powerful V-6 engine, 10-speed automatic transmission and your choice of rear-wheel or all-wheel drive. This commercial van is offered in two roof heights and three lengths, providing excellent cargo space and versatility.
3. Mercedes-Benz Sprinter Passenger Van
The Mercedes-Benz Sprinter Passenger Van is a sophisticated option for your family or business. Available in two lengths, seating 12 to 15 passengers, this large van offers ample headroom, available electric sliding side door and step, and a touchscreen infotainment system with smartphone integration.
4. Mercedes-Benz Sprinter Cargo Van
The Mercedes-Benz Sprinter Cargo Van is an extremely versatile large van. Choose between a wide variety of configurations and engines, including both gas and diesel-powered options. Available advanced safety features include blind-spot monitoring and downhill speed regulation.
5. RAM ProMaster Cargo Van
Offering best-in-class payload capacity and best-in-class interior ceiling height, the versatile RAM ProMaster Cargo Van is a popular choice with small businesses and tradespeople. This affordable economy van is also a good option for drivers looking for a van to convert into a camper.
6. RAM ProMaster Window Van
The two-passenger RAM ProMaster Window Van adds attractive full-length side and rear windows to the brand's standard high-roof cargo van. Equipped with a 280-horsepower V-6 engine and front-wheel drive, this large van also offers standard safety features like drowsiness detection.
7. Chevrolet Express Passenger Van
With seating for 12 to 15 passengers, many consider the Chevrolet Express Passenger Van to be one of the best full size vans for family and business. Hinged rear doors open wide, revealing generous cargo space for luggage, and a sliding side door allows for effortless passenger access.
8. Chevrolet Express Cargo Van
The extremely capable Chevrolet Express Cargo Van is available with your choice of three powerful engines, offering a maximum trailering capacity of 10,000 lbs and a maximum payload capacity of 4,280 lbs. An available second row of seating expands passenger capacity from two to five.
9. GMC Savana Passenger Van
With both 12 and 15-passenger configurations to choose from, the GMC Savana Passenger Van is a comfortable large van with side windows that open for increased airflow and tinted glass for sun protection and privacy. Available side steps allow for easier passenger access.
10. GMC Savana Cargo Van
The capable GMC Savana Cargo Van comes with your choice of three powerful engines, offering up to 401 horsepower and a maximum trailering capacity of 10,000 lbs. While this van comes standard with seating for two, an optional second row is available, boosting passenger capacity to five.
At Kijiji Autos, we want you to feel confident and in control when shopping for your next vehicle. That's why we make it easy to browse thousands of listings in your area, connect with top-rated dealers, and compare prices of vans. All online, all on your terms. Ready to start shopping? Discover a wide variety of new and used family vans, cargo vans and economy full size vans for sale right here on Kijiji Autos. 
Easily find your next ride on Kijiji Autos
Search now