The inspection: 5 things to ask the mechanic
By Kijiji Autos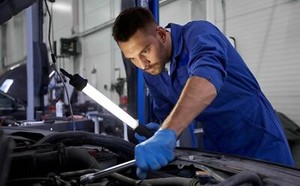 The car ad may be appealing, the seller very nice, but when it comes to buying a used car, there's nothing better than arranging for a basic inspection by a mechanic.
After all, even if you've done your homework and examined the CARFAX Canada report that provides you with the vehicle's complete history, only an expert can confirm the mechanical shape of your, hopefully, future car.
However, not everyone has a close personal friend who's a mechanic. CAA can provide you with a list of approved garages that will be able to conduct a thorough inspection of the used car you're preparing to buy, which usually costs around $100.
Feel free to visit the mechanic recommended by the seller, providing you ensure the garage is certified and impartial. Getting a mechanic to check the car means there will be no surprises that will cost you in the weeks or months ahead.
A mechanic will provide you with a detailed inspection report, but be sure to cover the following five points:
1- Fluids
In theory, a car can't run without the right fluids. A reputable mechanic will make sure that all of the fluids are where they should be, that there are no leaks, that the transmission never lacked oil (which can cause long-term damage), that the coolant is doing its job, and so on.
2- The braking and suspension systems
As a basic precaution, the wheels should always come off in an inspection. This enables the mechanic to check the condition of the brake pads and calipers. Plus, this helps ensure that the suspension and steering rods are solidly in place, that the brake cylinders show no leakage, and that rust has not damaged any parts.
3- The chassis
This inspection is done by raising the car. By sliding underneath, the mechanic can easily inspect the condition of the chassis, ensure that the floor is in good shape, that the muffler is in good condition, and everything is securely attached.
4- Repairs
You've obtained the CARFAX Canada report, so let your mechanic know about the repairs carried out over the years. The mechanic can then ensure that these repairs were done properly and with high-quality parts. A used car generally has a history, so it's better to know it before buying.
5- The drive
A thorough inspection always includes a test drive. It allows the mechanic to focus on how the car rides, any unusual sounds, and the overall performance of its components and parts, much the way you did during your own test drive.
The mechanical inspection is a basic precaution that should be part of the overall buying process. Once the inspection has been completed, you'll walk away – or drive away – with a detailed report on the condition of the car and a little extra peace of mind.
Easily find your next ride on Kijiji Autos
Search now