The best features of 10 popular hatchbacks
By Kijiji Autos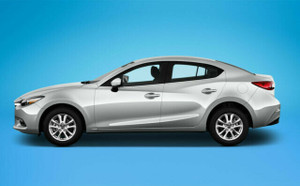 If you are in the market for a hatchback, you'll want to check out this overview of these 10 models and the features that make them so popular.
Kijiji Autos will help you confidently choose between the best hatchbacks, including used, sporty and hybrid models – whatever is a priority for you. This list is in no particular order. Here are some of the best features of 10 popular hatchbacks:
1. Hyundai Accent 
The Hyundai Accent has a spacious interior, making it a great vehicle for a family's needs. The Hyundai Accent's intuitive design will make your busy lifestyle easier to navigate.
Learn how the Hyundai Accentwill fit your lifestyle.
2. Ford Fiesta
For those who like a lot of technical features, like Bluetooth and USB ports, this might be the hatchback for you! Compact and sporty, it handles easily and is fun to drive.
Check out the Ford Fiesta and its many tech features.
3. Ford Focus
If safety is the number one feature for you, the Ford Focus has tech safety features you'll love, like easy to use touchscreens and a rearview camera to help you back up. The Ford Focus will give you a comfortable ride with good fuel economy.
Explore the Ford Focus and its impressive tech.
4. Hyundai Elantra
The standard tech systems in the Hyundai Elantra will keep you connected and entertained, with a computer and USB port for the front passengers to enjoy. Stability control and a brake assist system will make you feel safe.
Check out the Hyundai Elantra and engage in its entertaining tech systems.
5. Hyundai Veloster
Those who like something sporty will appreciate the Hyundai Veloster's 3-door design and responsive handling.
Check out what makes the Hyundai Veloster fun to drive.
6. Fiat 500
Your budget will be happy with the Fiat 500 fuel economy, as well as its low running cost.
Explore the Fiat 500 and its great value.
7. Nissan Versa
The Nissan Versa will give you a ride that is comfortable at an affordable price. It is sure to make the whole family happy!
Explore the Nissan Versa and its comfortable interior.
8. Mazda 3
Mazda 3 offers the driver the choice between manual or automatic transmission. It's an affordable car, yet looks and feels like a luxury automobile.
Check out the Mazda 3 and its versatile, luxurious design.
9. Chevrolet Volt 
This Chevrolet Volt is a hybrid that is both eco-friendly and reliable. Other perks include Bluetooth and navigation.
Learn more about the Chevrolet Volt and its green dependability.
10. Volkswagen Golf
The Volkswagen Golf features a computer and a touchscreen that makes navigation easy.
Explore the Volkswagen Golf and its impressive navigation system.
Buying a used hatchback can really save you money. But, if you want to buy a used vehicle with even more confidence, consider a certified pre-owned car. This way, you will get a manufacturer guarantee of the vehicle's condition.
Whether you are experienced and have a good idea of what you are looking for, or need some guidance on buying your next car, Kijiji Autos provides resources and tools that will help you connect with a dealer today, with confidence. Jut click on a call or message button, and easily find a dealer location near you.
Kijiji Autos also offers detailed dealer reviews, instant price analysis and estimator car mileage analysis, along with advice that you can count on.
There are many hatchbacks of both value and characteristics that are appealing to car buyers everywhere. This list above might help you in deciding the right vehicle for you. For even more help with your decision, check out Kijiji Autos listing of hatchbacks in your area.
Your well-being is our top priority. Consider whether in-person transactions are necessary and visit our Help Desk for more details and guidance. Follow Kijiji Autos' community safety tips for more advice about confidently connecting with dealers or sellers during COVID-19. 
Easily find your next ride on Kijiji Autos
Search now