You won't want to miss out on these innovative 2021 car features
By Kijiji Autos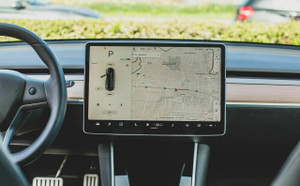 Whether they're designed to improve our overall comfort or enhance the driving experience, even the most affordable of new vehicles now come absolutely jam-packed with innovative features. Carmakers include amenities like Bluetooth connectivity, power windows and heated seats with more advanced driver assistance technologies to compete with one another for our hard-earned dollars.
But are all new innovations created equally? Here are some particularly eye-catching features that you should look out for.
Safety
While not exactly brand new, a number of high-end safety features are starting to come standard on entry-level vehicles. For example, the base trim of the 2021 Subaru Ascent includes the brand's EyeSight safety suite and adds advanced adaptive cruise control with lane-centering and lane-keep assist.
In contrast, the 2021 Acura TLX introduces a brand new airbag that's better designed to protect front-seat passengers from serious brain injury. Inflatable sides work in conjunction with a "sail panel" to safely catch passenger's heads in forward collisions like a baseball glove. The new TLX will also include the AcuraWatch driver-assist system with improved pedestrian-sensing capabilities and an enhanced braking system to avoid accidents.
Technology
In cooperation with Apple, BMW will become the first manufacturer in the world to offer drivers a digital car key on their iPhone. The BMW Digital Key will live in your iPhone's Wallet application and can be shared with up to five friends or family members. Simply hold the phone near your new BMW's field communication sensor and you can unlock your door – simple and easy. An additional wireless charging pad will be located within the cabin for quick, efficient use.
Priding themselves on what they call human-centered design, the 2021 Ford Mustang Mach-E will implement a Hands-Free Mode as part of the ever-evolving Ford Co-Pilot360 collection of driver-assist features. An advanced driver-facing infrared camera will track driver's eyes and head position to let drivers take their hands off the wheel while on pre-mapped, divided highways as long as they continue to pay attention to the road ahead. While not a truly autonomous driving mode, this is designed to help make long drives less stressful and more enjoyable.
Performance
In terms of performance, carmakers are continuously raising the bar. Not to be outdone by their contemporaries, the all-new 2021 Ford Bronco is equipped with a wide range of features dedicated to creating a memorable driving experience. Paying homage to its 1960 ancestor, the new model integrates G.O.A.T Modes to give drivers greater flexibility while behind the wheel. Including driver modes like Normal, Eco, Sport, Slippery, Sand, Baja, Mud, and Rock Crawl, the Ford Bronco can really go over any terrain.
The electric 2021 Jaguar I-Pace has been refreshed with more technology to streamline its performance. An updated 11 kW onboard charger with three-phase AC charging is able to add up to 53 km of range every hour. This means that drivers don't have to install special equipment at their homes to achieve faster charging times.
Whether you're looking for a brand new vehicle equipped with the most innovative of features or something with a little less flash, check out Kijiji Autos to discover a wide selection of new and gently used vehicles.
Your well-being is our number one priority. Stay safe during in-person transactions and visit our Help Desk for more information and advice.
Easily find your next ride on Kijiji Autos
Search now