4 steps to picking the best work vehicle
By Kijiji Autos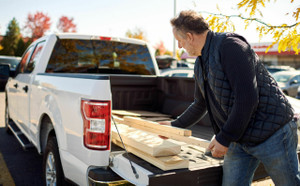 Does your current work vehicle offer you enough space to get the job done? Can it confidently conquer off-road terrain with its rugged four-wheel drive? If not, then perhaps it's time to look for a new work vehicle.
Although finding a new work vehicle can be a time-consuming process, Kijiji Autos makes it easy to sort and filter through a wide selection of options to find the perfect car. Our four-step guide will help narrow down just what kind of vehicle you might need.
1. What kind of work do you do?
When it comes to choosing a new work vehicle, there is one question that should be answered before all others: what kind of tasks does your vehicle need to complete? From cargo vans to pickup trucks, there are a wide variety of work-focused vehicles available that are tailor-made for specific types of jobs. 
While a powerful pickup truck will be able to haul and tow a sizable payload, their interior space is often limited. On the other hand, cargo vans deliver ample interior space but often lack serious towing power. It shouldn't be too difficult to pinpoint exactly what you need in a work vehicle, whether its power, space or a healthy balance of both.
2. Commercial or casual?
After you've decided on the type of work vehicle that is best optimized for your specific line of work, it's important to consider the grade of vehicle you might need. Are you looking for a compact pickup truck to use on the weekends or do you need a full-sized truck with some serious power? 
Being honest with yourself regarding the intensity of your work can help save you lots of money in the long run. Although it might be convenient to opt for a super spacious cargo van, you might end up finding that the full-sized option is unnecessary and underutilized. Choose an option that's within your means and perfectly suited for the level of work that you're performing.
3. Passengers and power?
Elaborating further on the question of commercial versus casual, the question of passengers and power is an important one to consider when choosing a new or gently used work vehicle. Do you have a second vehicle or will your work vehicle be used for family matters as well? Is there a likelihood that your pickup truck will have to haul loads for weekday work as well as sports equipment on the weekend?
If this is the case then it's worth considering a vehicle with a wide array of safety and tech features to make the ride as comfortable as possible for the whole family. While most new pickup trucks come standard with LATCH connectors for children's seats, make sure that your favourite option has all of the safety features that you might need.
4. What can you afford?
Choose a vehicle within your budget! It's important to consider the initial cost of purchase as well as any associated ongoing costs, such as running and servicing. Pick something that's going to bring you joy while remaining within your budget.
By following these simple four steps it should be relatively easy for you to figure out what kind of car you need. Kijiji Autos offers an impressive selection of work vehicles that are well-suited for just about any job. Browse our popular work vehicles to find an option that's best for you so you can confidently connect with a dealer today.
Your well-being is our top priority. Consider whether in-person transactions are necessary and visit our Help Desk for more details and guidance. Follow Kijiji Autos' community safety tips for more advice about confidently connecting with dealers or sellers during COVID-19.
Easily find your next ride on Kijiji Autos
Search now