5 Apps that will make your car smarter
By Kijiji Autos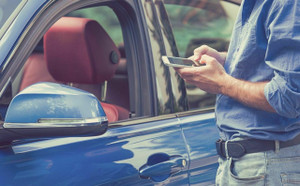 Not everyone drives cars with in-vehicle technologies like some of the newest models with Android Auto and Apple CarPlay, but that doesn't mean you can't add a little intelligence to your ride. Using your smartphone and some handpicked apps, you can drive around with in-car smarts that will rival the cars you envy.
Here are five types of apps your car needs to join the smart ranks.
1. Waze
This gem of an app is an amped-up GPS navigation system with real-time updates from users so you're always aware of traffic jams, construction delays, accidents and more. Since Waze is user-driven, you'll even have access to insider info like areas with speed traps. (Not that you would speed, but still good to know!) You also have the option of connecting with Facebook so you can find friends who might be traveling in the same area as you.
2. DashCam
Whether you're traveling through some of Canada's awesome scenery or you're in the middle of a rush hour craze and need proof in case of an accident, DashCam can record your trip while your phone is mounted on your dash. The app supports background recording so you're not giving up your music or other smart apps while it's in use. Download the Android version or the Apple version and start recording your journeys.
3. GasBuddy
With gas prices soaring and varying in price from one area to the next, GasBuddy will quickly become one of your favourite apps if you do a fair bit of driving. Outsmart the fuel companies with the power of more than 60 million downloads by community users, providing you with the lowest gas prices within your defined radius. If you're planning a long haul that will require fuel stops, you can also use GasBuddy to help you plan your trip for optimal fuel savings.
4. iWrecked
Although it's best if you never have to use it, iWrecked is an indispensable tool if you happen to get into an accident on the road. It's like your own personal collision assistant, guiding you through all the necessary information you need to create an accident report in PDF-format. Allows you to enter unlimited vehicle logs with photos for a complete history of the incident, helps you find tow trucks and taxis nearby if you need them.
5. Dash Droid and iCarMode
For Android users and Apple users respectively, these apps turn your smartphone into a distraction-free dashboard perfect for music, making calls and more. With up to eight customizable function buttons that are large for ease-of-use and voice command capabilities, your smartphone becomes a smaller version of the higher-tech in-car smart technologies dashboards.
With these five apps, no matter how old your car may be, it can be just as smart as the newer vehicles equipped with in-vehicle technology. Even better, you won't have to break the bank because although some offer in-app purchases for extra features, all of these apps are free! A bonus must-have to enhance any trip and easily find anything you're looking to buy, sell, rent or trade: don't forget to download the Kijiji app for and . All of the smartest cars have it!
Easily find your next ride on Kijiji Autos
Search now