10 tips to help make the road a better and happier place
By Kijiji Autos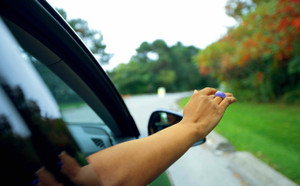 There was once a time when going for a drive was an exciting experience instead of simply a means to get from point A to point B. The whole family would pack into the vehicle on a sunny weekend afternoon and feel the exhilaration of the drive as they headed towards their destination. Nowadays, traffic jams, morning commutes and rush hours have turned driving into a chore rather than an enjoyable adventure.
We have all, at some point, been responsible for making the roadways stressful in one way or another. Alternatively, we are all equally capable of making the road a happier place. Let's explore 10 unique ways we can help make the driving experience better again, for everyone's sake.
1. Preparedness is key
Surprisingly, an essential element to staying calm and driving safe starts long before you're even in the car. Having a destination, a plan and a route on how to get there can help us avoid confusion, frustration and abrupt changes in direction. Account for additional stops, including fuelling up the vehicle, mealtimes and busy road hours.
2. Be mindful of our emotional state
A vehicle is a heavy piece of machinery. As such, operating a car requires our complete attention. It is essential to have a clear head devoid of heavy and unpredictable emotions. Keep calm, and should events arise that upset you while driving, it is optimal to pull over until you feel more at ease.
3. Speed is not your friend
As enticing as it may be to zoom past certain slow-moving or rude drivers, speeding contributes to far too many accidents to be good for anyone. Truthfully, pacing 5-km/h faster than the car behind you will only save you minimal time off your trip.
4. Give space to pedestrians
Pedestrians have the right of way. We have heard it a thousand times, but it's an important rule to remember. The people outside a vehicle are much more vulnerable than you are. Always take caution when pedestrians are in your vicinity, and give them as much time and space as they require.
5. Bike paths are not roadways
Why are bike lanes important? Sharing the road with slow bicycles contributes to so many headaches for anxious drivers. Though, it's always helpful to remember that the cyclist next to you is one less vehicle jamming up the roadways. Additionally, bike lanes should be treated as pedestrian lanes and, therefore, should be given the same patience.
6. Parking convenience
The end of our trips can be one of the most frustrating parts of the venture because of the dreaded parking stop. It can be complex and irritating when trying to find parking. Avoid stealing and saving parking spots. Consider using websites such as SpotHero and ParkWhiz to reserve a spot ahead of time.
7. Not contributing to road rage
Of course, we are all curious about how to deal with road rage. Whether from other drivers or inside our own vehicles, road rage can be a scary and dangerous emotion. You can avoid becoming a contributor to road rage by having these tips in mind. Share road with everyone, keep calm and drive safe.
8. Driving is communal
As alone as we can feel when operating a vehicle, we are actually surrounded by a community of people. Abiding by the rules is the minimum, but we can all do better by being generous and patient. Move over, drive safely and consider the members of the community that you share the road with.
9. Accidents happen
Even in a perfect world of friendly drivers, accidents are an inevitability. It is crucial to be a responsible and compassionate person even when things go wrong. No matter who is at fault for an incident, maintaining our composure can go a long way in keeping the roads a better place.
10. Alternatives to driving
Finally, if you find it challenging to keep a calm mind while driving, perhaps you can find some alternatives. If you know that you suffer from being an anxious or rageful driver, allow others to take the wheel. Additionally, carpools, public transportation and travelling physically are all viable options.
Ready as ever to hit the road? Search for your perfect new or used car with the extensive catalogue of vehicles available on Kijiji Autos.
Easily find your next ride on Kijiji Autos
Search now