The top three best paint protection options for your vehicle
By Kijiji Autos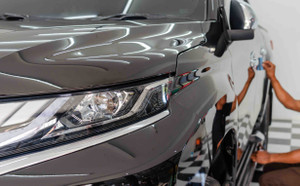 Buying a new vehicle is a great experience. Nothing beats hitting the road in a car you bought fresh off the lot. However, as fun as it is to finally get behind the wheel of your new ride, it's important to take your time through the process. All the bells and whistles, paperwork and questions you must face while buying a new car may not be the most exciting aspect, but making practical decisions to lengthen your car's lifespan undoubtedly pays off.
One such option worth careful consideration is paint protection for cars. Below we've examined some of the best car paint protection options and why it could be recommended to have a reliable clear coat on a car.
Using wax or sealant
The most common car protective coating used is wax and sealants. These can offer an affordable option as a clear coat for cars. What is a clear coat? A car's clear coat protects and prevents damage to the paint. Without a clear coat, the paint is susceptible to rust, weather damage and deterioration over time.
Additionally, car paint protection can offer a deeper tone to the paint colour and makes the vehicle easier to clean. Wax and sealant car paint protection can be applied at home, following the attached instructions thoroughly.
The difference between the two is that wax automotive clear coat is typically derived from natural sources. It also could be best for vehicles that need little protection to add an extra layer, even if it's been previously covered in a car paint coating. The same goes for the car interior paint.
Going for the ceramic coating
Ceramic coatings are among the best paint protection for cars, trucks and other vehicles. These are best applied by a professional, or you may have to look up where to buy automotive paint in Canada. Lasting for multiple years, ceramic clear coat paint is a popular protection, easily deflecting dirt and water.
Although this paint protector for cars is much more expensive than others, it could be best reserved for vehicles seeing everyday use.
Choosing no protection
Of course, opting not to purchase clear coat paint for your car is also an option, especially for automobiles that rarely face temperamental weather and outside dangers. That said, coating car paint in Canada can be easily accessible. Choosing not to use a car paint protection coating should be done with the understanding that your vehicle might be at risk of rust, damage and deterioration.
Does protection save you money?
Whether or not a protective coating will save you money long term is different for every vehicle. If you intend on giving your car a polished look and an extra layer of protection with the best automotive paint Canada has to offer, it can be worth spending the extra money on a clear coat.
Take the time now to search for new and used vehicles with the extensive catalogue of automobiles available on Kijiji Autos.
Easily find your next ride on Kijiji Autos
Search now