A Porsche for (almost) every budget
By Kijiji Autos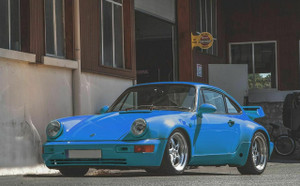 Although not everybody is going to be able to afford the Porsche 911, there is still a wide selection of models available at more affordable price points. Asking dealers for information and doing research are a couple of ways you can find a luxury vehicle for less. Here are some points to consider as well as some alternative models that are more affordable.
Your well-being remains our top priority. Please seriously consider whether in-person meetings are necessary and visit our Help Desk for more information.
Most Affordable
You're sure you want a Porsche, but you can't afford one of the more iconic models? A great starting point is to look at some of the brand's front-engine models, like the 928 or 944. Similarly, the mid-engine 914 option offers an eccentric design and can sometimes be found at a more affordable price point.
Porsche 928
Often celebrated for its expert engineering, the 928 was originally designed as a replacement for the 911. In the beginning, the front-engine model wasn't widely accepted, but over time, its popularity has grown.
Porsche 944
Produced for almost a decade from 1982 to '91, the Porsche 944 was considered to be the ""everyman Porsche"" by many for a number of years. On the plus side, this is an extremely well-balanced vehicle—with a 50/50 weight distribution. One downside is that its replacement parts can be costly.
Porsche 914
Made in collaboration with Volkswagen, the 914 is one of the most polarizing options ever to be produced by Porsche. This lightweight roadster has always been considered affordable, but compared to other vehicles from the brand, it's considered underpowered.
Mid-Range
As your budget increases, so do your Porsche model options. In addition to the Boxster and Cayenne, you may get lucky and find the odd Cayman or 911 advertised around this price point.
Porsche Cayenne
Although the Cayenne is often dismissed by purists, the 4WD remains a big seller. This vehicle may not ascribe to the classic roadster profile, but they are well made, and versions from the first generation can be found at a reasonable price.
Porsche Boxster
Designed as an open-top roadster, many found the Porsche Boxster to lack the power found among similar highway cruisers. Despite this, the car offers impressive weight distribution and handling while driving. Models from the '90s can be found at a great price. The Porsche Cayman became part of the Boxster family in 2005 and takes its classic style one step further.
Best in Show
At the higher end of the scale, we find some of the more classic and sought-after luxury vehicles, including the 911 and a number of its iterations. Additionally, the Porsche Panamera is available if you're willing to lease.
Porsche 911
Since the 1960s, the Porsche 911 has continued to be one of the brand's most popular and desired models. The luxury vehicle has stayed more or less the same since its inception, with the change from a water-cooled rear engine to air-cooled coming with the 996 model.
Regardless of which Porsche you're interested in, it's always recommended to research what's available on the market before making a purchase. Talk to an authorized dealer, or search on Kijiji Autos today for more information and to find an option in your price range.
Easily find your next ride on Kijiji Autos
Search now