Can I visit a dealership during COVID-19?
By Kijiji Autos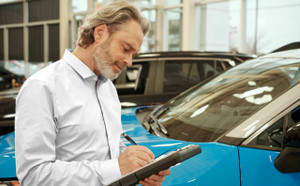 Staying on top of both federal and provincial COVID-19 health restrictions can be a bit of a challenge. Not only is the information changing almost daily, but it also looks different from province to province. 
Canadians looking to buy a car these days may still be able to visit their local dealerships. Here's some vital information about buying a car from a car dealer during the COVID-19 pandemic:
Are car dealerships open?
That depends on where you live. According to the federal government's public safety information page, automotive dealerships are not considered essential services. Provincial government restrictions vary. British Columbia, New Brunswick, Yukon, Northwest Territories and Nova Scotia only have partial business closures. Provinces and territories where all non-essential businesses are closed are now loosening their restrictions. For example, Ontario dealerships are fully open as of May 19th. Dealerships in Quebec have been gradually reopening since mid-April.
For the most part, dealerships across Canada that have remained open will see customers by appointment only and during restricted hours. And by appointment only, we mean that walk-ins are not permitted. Meeting your dealer at a scheduled time minimizes the length of social interaction and gives the dealer enough time to sanitize before your arrival. 
How can I stay safe when test driving a vehicle?
Fortunately, the automotive industry has been very proactive in maintaining health and safety measures by sanitizing test models before and after your visit. You can find out what automakers are doing to keep your community safe by heading over to a specific brand's website as well as asking your dealer.
Before you test drive a car, be sure to thoroughly wash and sanitize your hands and to wear personal protective equipment (PPE). Maintain at least two metres of distance between you and the sales associate, and make sure they are sitting in the back seat while driving. Before returning to your own car, sanitize your hands again and properly dispose of your PPE when you get home.
Should I visit a car dealer?
The COVID-19 pandemic is far from over, and even though the country is slowly letting the economy restart, it's still much safer and simpler to do your car shopping online. Despite the gradual reopening of retail businesses, governments are encouraging citizens to continue social distancing.
Car sales are moving online
It might be more difficult to test drive that new car you've been eyeing, but you can do all your research online. You can find cars for sale and even take a virtual test drive from the comfort and safety of your own home. For contactless payments, you can purchase your car online or over the phone with your credit card number.
Kijiji Autos allows buyers to easily browse and compare models and confidently contact local dealers all under one roof. Our advanced search function helps you narrow down what you're looking with easy-to-use filters. We've even partnered with dealerships in your area to make it as easy as possible to reach out to sellers. 
Your well-being is our top priority. Consider whether in-person transactions are necessary and visit our Help Desk for more details and guidance. Follow Kijiji Autos'  community safety tips for more advice about confidently connecting with dealers or sellers during COVID-19.
Easily find your next ride on Kijiji Autos
Search now