10 great road trips in Canada
By Kijiji Autos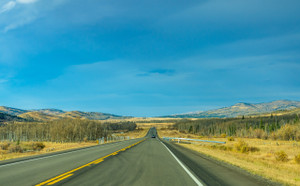 Living in one of the biggest countries in the world, it's pretty common to hear the open road calling. From the Rocky Mountains to the Gentle Island, the Great Lakes to the Badlands, Canada has so much to explore, and a great way to see it is by car. Grab your favourite gas station snacks, press play on your driving playlist and hit the road. Along the way, you can take in some of the country's most scenic views, visit quirky roadside attractions and discover unique regional tastes and traditions.
To help you plan your next road trip adventure, here are 10 scenic road trips in Canada, in no particular order:
1. Grasslands National Park
Head to Saskatchewan's Grasslands National Park for a taste of prairie history. Drive the scenic Badlands Parkway, take the Ecotour Scenic Drive or get out and stretch your legs on a hike. Highlights include herds of plains bison, rare black-footed prairie dogs and one of the largest dark sky preserves in Canada.
2. Inuvik-Aklavik Ice Road
Dreaming of a true Northern experience? Located north of the Arctic Circle, the legendary Inuvik-Aklavik Ice Road in the Northwest Territories is only open from late December to late April, depending on weather conditions. This 117-km winter road trip takes you across the frozen Mackenzie River Delta. 
3. Dempster Highway
Stretching 740 km from historic Dawson City, Yukon to Inuvik, Northwest Territories, the Dempster Highway is an epic—and challenging—Canadian road trip. Watch the landscape transform from boreal forest to mountain range to wide-open tundra as you head north, beyond the Arctic Circle.
4. Cowboy Trail
A classic Alberta road trip, the Cowboy Trail will appeal to drivers looking for a Wild West experience. This 700 km scenic route along Highway 22 takes you through the foothills of the Canadian Rockies with plenty of opportunities for horseback riding, ranch stays and even rodeos along the way.
5. Viking Trail
Located in Newfoundland, the Viking Trail connects Gros Morne National Park to L'Anse aux Meadows National Historic Site, a 1,000-year-old Viking settlement. On route, you can explore fjords, visit quaint fishing villages and soak up all the seaside scenery, icebergs included.
6. Montreal to the Gaspé Peninsula
One of the popular Quebec road trips, this 900-km adventure takes you from vibrant Montreal to the picturesque Gaspésie region. Following the mighty St. Lawrence all the way to the Atlantic Ocean, highlights of this route include historic Quebec City, whale-watching and Percé Rock.
7. The Laurentians
Start in Montreal and wind your north through the Laurentian Mountains to Mont-Tremblant. From kayaking to skiing, this region offers a huge array of outdoor activities, no matter the season. Not just for outdoor adventure lovers, the Laurentians are also famous for artisanal food producers and spa getaways.
8. The North Klondike Highway
Follow in the footsteps of Canada's early gold prospectors on this Yukon road trip. Take the North Klondike Highway through the wilderness from Whitehorse to Dawson City, a famous gold rush town. Notable attractions along the way include Five Finger Rapids: a scenic lookout and hiking spot.
9. North Cape Coastal Drive
Visitors to PEI will find that the North Cape Coastal Drive has a lot to offer. Starting in Summerside, this 350-km route features red sand beaches, historic lighthouses and dramatic sunsets. Visit the Potato Museum, try Malpeque oysters, discover the Acadian culture and enjoy the salty sea breeze.
10. Lake Superior Coastline
For drivers in search of Ontario road trips, an adventure along the shores of Lake Superior from Sault Ste Marie to Thunder Bay is a fantastic option. Expect vast stretches of wilderness, breathtaking lake views and small-town hospitality. Popular attractions include Sleeping Giant Provincial Park.
When planning your next road trip, the Kijiji Autos information hub can be a great resource. Get organized with our pre-trip checklist or learn how to plan a road trip in an electric car. We've even rounded up some resources to help you choose from the options for road trip cars available on Kijiji Autos, helping you find a great vehicle to traverse our vast country, comfortably and safely.
Easily find your next ride on Kijiji Autos
Search now