Everything you need to know about trading in your car
By Kijiji Autos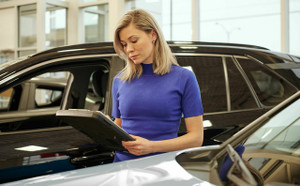 If you think it's time to upgrade your everyday vehicle, but you don't want to bother with selling it privately, then trading your car in is likely the option for you. Trading in refers to the process of applying the value of your current car towards a new or gently used option at a dealership. While COVID-19 has significantly complicated many aspects of the auto industry, trading in your vehicle is still a viable option if you follow some simple steps.
First steps to trade-in
While the specific process may vary slightly from one dealership to another, it's safe to assume that general steps will be similar across the board. The first thing that you should do once you've decided that you want to trade-in your vehicle is to get an approximate valuation. There are a number of easy-to-operate online tools available that you can use to estimate the value of your car. While this value won't be confirmed until a visual inspection is done at the dealership, it's good to have an idea of how much your car is worth.
It's important to remember that a trade-in won't score you as much money as selling your vehicle privately. Dealerships often incur costs of their own on trade-in cars. They need to inspect, recondition, detail and certify the vehicle before they can sell it. To get the maximum value on your trade-in, you may want to consider getting your car detailed, serviced and certified beforehand.
Contacting a dealership
Once you've got an initial valuation for your car, you're ready to reach out and contact a dealership. You will want to call ahead to determine what specific measures your dealership is taking to operate safely during COVID-19. Some auto dealers have opted to perform initial inspections via phone or video chat applications, like Zoom and Skype, while others prefer to set up a specific time for you to visit the dealership with your vehicle to safely perform an inspection while social distancing.
Some factors that dealers look for when determining your vehicle's value include:
The make, model, year and trim

Additional features or packages

Kilometres driven

Overall condition of your vehicle
That being said, many experts claim that COVID-19 is a particularly strong time for car owners to consider trading in their used vehicles due to dealerships facing inventory shortages.
How does COVID-19 affect my trade-in?
There are a number of steps that you can take before bringing in your vehicle for a trade-in to ensure the well-being of dealership employees and yourself.
The final step of the process – taking your car to a dealership, unavoidably must be done in person. When visiting a dealership with your vehicle for a trade-in, it's important to fully sanitize the interior of your car. Wipe down all often-touched surfaces with a disinfectant, including the gear shift, steering wheel, infotainment system, door handles, seat belt, rearview mirror and armrests. Remember to wipe the rear seats as well as the trunk too. Wear a mask when driving to the dealership and leave the windows slightly open to ventilate the interior. Use social distancing practices and be sure to sanitize your hands when at the dealership.
Your well-being is our number one priority. Stay safe during in-person transactions  and visit our Help Desk for more information and advice.
Easily find your next ride on Kijiji Autos
Search now