How do I submit paperwork when buying a car during COVID-19?
By Kijiji Autos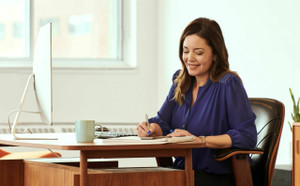 Filling out the paperwork necessary to finance and register your car was a nuisance long before the COVID-19 restrictions. But even with restrictions in place, you can still complete and submit all required forms in order to set up financing and drive your car legally. But how can you do that when provincial governments are telling people to stay home? 
Here's a quick guide to help you navigate the process:
What is my province doing to help me complete my paperwork during the pandemic?
Provincial motor vehicle offices are deemed essential services, but all citizens are encouraged to avoid these offices unless absolutely necessary.
Citizens across the country can register their new cars in person if their dealer doesn't do it for them, though most new-car dealerships can complete your registration for you. 
Before heading to your nearest office, call ahead, but please stay home if you're showing symptoms of illness. To help prevent the influx of people, many services are available online in your province. 
What vehicle services does my province offer online?
Due to COVID-19, provinces and territories have expanded the expiration dates of vehicle registrations and licences. More information about the following is available on individual provincial websites. 
British Columbia: Transfer of ownership, licence renewals and insurance purchases

Saskatchewan: Auto insurance and financial relief applications

Alberta: Registration transfers and renewals

Manitoba: Licence, registration and insurance renewals as well as new registration and policy applications (over the phone)

Ontario: Licence renewals and licence plate sticker renewals

Quebec: Transfers of ownership and registration (over the phone) licence renewals and insurance

New Brunswick: Registration renewals

Newfoundland & Labrador: Registration and licence renewals – appointments for registration can be made online

Nova Scotia: Registration and licence renewals

Prince Edward Island: Licence and registration renewal. PEI has also extended vehicle registration to July 6th

Yukon: Registration renewals

Northwest Territories: Registration renewals and cancellations, licence renewals

Nunavut: None
Can I apply for financing online during COVID-19?
Yes. Financing applications can be completed online. There are many different options available to prospective buyers. New car owners can apply for financing online with their bank or via dealership or automaker websites. Don't forget to ask your dealer about possible rebates that are applicable in your province.
Buying a used car? You can apply for a loan from your own bank or other financial institution. These services are available online, and many applications can be completed and approved in one day.
Can I apply for car insurance online?
Absolutely. Applying for car insurance online in Canada is easy and drivers have plenty of options. Your own bank may even offer this service.
To help Canadians afford to keep their cars on the road during the COVID-19 pandemic, many provinces are waiving, extending and reimbursing certain insurance fees. And because the pandemic means that you'll be spending less time on the road, your change in driving habits may actually lower your insurance premiums. Ask your broker for more information. 
Do more online
Kijiji Autos makes it easy for you to research, find, test drive and buy the car of your dreams—even during the pandemic. Our easy-to-use site lets you browse for cars in your area, compare models and confidently contact dealers on one site. 
Your well-being is our top priority. Consider whether in-person transactions are necessary and visit our Help Desk for more details and guidance. Follow Kijiji Autos' community safety tips for more advice about confidently connecting with dealers or sellers during COVID-19.
Easily find your next ride on Kijiji Autos
Search now