How does financing a car work in Canada?
By Kijiji Autos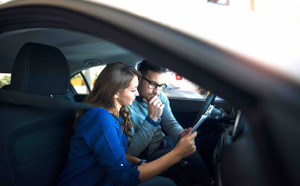 ​​One of the most important steps in buying a car is figuring out how to pay for it. Car financing is one of the most popular options in Canada as it allows you to purchase a car in affordable installments. But car finance can be a bit confusing, especially if it's your first time buying a vehicle. At Kijiji Autos, we want you to feel confident when purchasing a vehicle, so we've made the process of applying for financing as easy and stress-free as possible. Let's start by answering some common questions:
What's the difference between car financing online vs. at the bank?
The main difference between car financing at the bank vs. online is that bank loans require you to visit the branch in person while Online Financing can be done from the comfort of your home or office. For both in-person bank financing and online car financing, there is a set payment, payment term and interest rate. Another, and often more affordable, option is leasing a car.
How does car financing work?
When buying a car through a car dealership, the dealer typically helps arrange a car loan. After choosing a car, you will need to fill out paperwork, provide documents including proof of income and undergo a credit check. The dealer will then use these details to try and arrange a car loan for you by submitting your application to lenders. Once your application has been approved, you can then decide whether to finalize the deal.
Who qualifies for car financing in Canada?
The typical requirements to qualify for car loan financing in Canada are a valid driver's license; a minimum monthly income starting around $1,500 to $1,800 per month, depending on lender's requirements; a minimum age of 18 or 19, depending on provincial rules; and a credit check.
While banks generally require an excellent credit history to approve a car loan, car dealerships and car financing specialists might be a bit more flexible. If you're a younger driver or new to Canada, a limited credit history could make financing more difficult. (Please check with your lender/dealer/bank to verify their loan requirements. These details are meant as information only.)
Can I finance a used car in Canada?
While we tend to associate car financing with new cars, it is possible to finance a used car. Used car financing options include applying for a car loan from your bank, using a line of credit or financing the car through a dealership.
What are my payment options?
When buying from a dealer, you can apply for financing or leasing online or at the dealership. Online Financing gives you options for choosing your payment frequency, term and down payment.
Easily find your next ride on Kijiji Autos
Search now