How fuel-efficient is your car?
By Kijiji Autos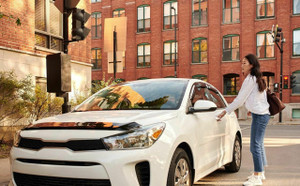 When it comes to saving money on your car, the number one thing to look at is fuel economy. The more you drive, the more important it is for your vehicle to use the fuel it has efficiently. A small difference in gas mileage can result in hundreds of dollars spent or saved over the course of a year, depending on how much you drive.
Your well-being remains our top priority. Please seriously consider whether in-person meetings are necessary and visit our  for more information.
While most people would assume that better technology results in stronger fuel efficiency, the reality is that it's not that straightforward. By understanding where to find and compare accurate fuel efficiency ratings, you can find a vehicle that will work best for you.
Why measuring fuel efficiency is difficult 
Vehicles continue to improve year after year, but a number of factors influence their fuel economy. Although vehicle designs have become more aerodynamic and tires more efficient, cars have steadily grown heavier with each new model thanks to higher safety standards.
Today, fuel economy ratings more accurately represent the experiences of daily motorists than ever before. However, this is a result of years of drastic changes in the ways that factories test for fuel-efficiency.
Whether the car is new or nearly new, fuel will often be the biggest accumulative cost you'll have throughout the year, so make sure your vehicle makes the most of every drop. That being said, we've put together a breakdown of how you can find accurate, up-to-date information regarding the fuel efficiency of many vehicles available on the Canadian market.
NRCan testing
Every year, Natural Resources Canada (NRCan) releases its Fuel Consumption Guide for the public. This document compares the energy efficiency and performance of all light-duty vehicles (cars, SUVs and trucks) sold throughout the country.
In addition to measuring the amount of carbon dioxide emitted per kilometre, NRCan collects its findings by measuring each vehicle in three distinct categories:
1. City driving
2. Highway driving
3. City and highway driving (average)
If you're trying to determine which vehicle best fits your lifestyle, National Resources Canada also offers a tool to help. By selecting and comparing multiple makes and models, you can figure out which car will likely be the most efficient for your budget based on your requirements and conditions.
The following list shows the comparative city and highway consumption of several of Canada's most popular vehicles from 2017 based on data collected from NRCan.
MODEL — CITY CONSUMPTION — HIGHWAY CONSUMPTION
Volkswagen Golf — 9.3 L/100 km — 6.6 L/100 km
Toyota Prius V — 5.5 L/100 km — 6.0 L/100 km
Ford Fiesta — 8.6 L/100 km — 6.4 L/100 km
Honda Odyssey — 12.3 L/100 km — 8.6 L/100 km
Toyota Yaris — 7.3 L/100 km — 5.8 L/100 km
BMW i3 (60 Ah) — 1.7 kWh/100 km — 2.1 kWh/100 km
Chevrolet Spark — 7.8 L/100 km — 6.2 L/100 km
Toyota Camry Hybrid LE — 5.6 L/100 km — 6.2 L/100 km
Ford Expedition 4X4 — 15.9 L/100 km — 12.0 L/100 km
Nissan LEAF — 1.9 kWh/100 km — 2.3 kWh/100 km
When looking to purchase a new car, whether it's your first or you're looking to upgrade, it's important to consider the vehicle's fuel efficiency. Think about your own driving habits: do you often find yourself on the highway, or do you strictly drive within the city? Make a decision that best reflects this.
Kijiji Autos has a wide selection of new and nearly new cars that fit your specific needs.
Easily find your next ride on Kijiji Autos
Search now