How Kijiji Autos can help you find the perfect car
By Kijiji Autos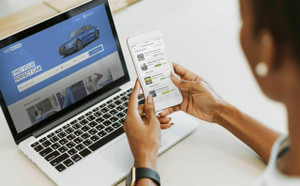 Enjoy your car shopping experience with Kijiji Autos' easy to use, powerful platform designed exclusively for you. Let's get started.
Kijiji Autos is a new classifieds platform devoted exclusively to buying new and used cars and trucks. Kijiji Autos is designed to help everyone have a positive car shopping experience. The platform is easy to use, whether you're a first time buyer or a seasoned pro. Check out Kijiji Autos' large inventory of vehicles on the web, mobile web, and on its popular app.
Why shop with Kijiji Autos?
There are many reasons to car shop with Kijiji Autos. Here are the highlights:
Kijiji Autos is focused on you
It's important to find a car that is suited to your specific needs. Whether you already know what you're looking for or you're simply browsing for inspiration, with Kijiji Autos' specific categories, everything is easy to find.
For example, search the Hard Work category to find the hardest working cars and trucks. Looking for a family car or one that will make commuting a breeze? We've got search categories for these lifestyles, too. Check out First Cars, and we'll keep your budget in mind. And if you're someone who wants a car that emits fewer emissions, or none at all, there is an Eco-Friendly category, filled with popular hybrid and electric cars.
Powerful search and filters
Once you've found a make and model you're interested in, Kijiji Autos helps you further narrow your search. Using tons of powerful, specific filters (price, year, mileage, seat count, transmission, colour, etc) and personalized saved searches, you can zero in on the car you want in no time.
Instant price analysis
If it's a used car that has piqued your interest, you'll immediately benefit from our price comparison feature, which instantly tells you if the car you love is under, over or fairly priced.
Dealer ratings and reviews
If a dealer is selling your perfect car, you can check out car dealer ratings and reviews, and then reach out to them online for a quick response.  And you can access car history reports, too.
For a no-nonsense site that lets you browse and buy all the popular – and more elite – makes and models, check out Kijiji Autos.
Easily find your next ride on Kijiji Autos
Search now