It's all in the details: how to keep your car looking new with car-detailing
By Kijiji Autos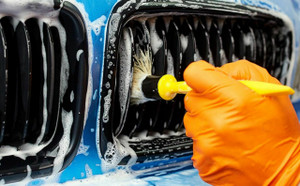 A detailing is first of all a deeper cleaning than a usual car wash, that not only removes visible dirt, but also grime and build-up that can damage your car over time. This is an important step in routine car maintenance that should be done every four to six months to keep your car in optimal condition and prevent expensive wear and tear from occurring later. A thorough detailing offers a variety of benefits that both improve the appearance and value of your car, lengthen its lifespan and keep it safe to drive. If you're looking to sell your car, it is also a great investment that instantly raises the sale value of your vehicle. After all, you want it to look its best when you show it to prospective buyers! If you've just bought a new car yourself, a detailing can give it that bright new look you want.
The Steps of Detailing
There are different options you can choose from when you have your car detailed, depending on your budget and needs.
· The most important step may be the paint care. Detailing the exterior of the car cleans build-up off the metal body, which helps to preserve the paint, which in turn protects the metal and prevents rust from taking hold. A finish with a sealer or glaze, and then car wax provides extra protective layers that help the car's clear coat of paint to fend off harmful contaminants. A good detailing job also helps to correct any imperfections in your vehicle's paint, giving it a shiny new look.
· Also vital, detailing the chassis and wheels especially helps to lengthen the lifespan of your car, as these areas are particularly prone to picking up dirt and salt from the road.
· The exterior trim can polished for a sleek look, and headlights and taillights will be properly cleaned and buffed. This step is particularly important as dirt or grime on your lights can cut down on visibility and lead to unsafe driving conditions.
· Car interior cleaning gives it that pristine, fresh feel, cleaning away any dirt, dust, stains and odors. Leather seats may be conditioned as well as the dashboard to prevent cracking and wear.
· Detailing the engine bay helps to remove build-up for a bright and clean look, and keeps rubber and plastic components supple to decrease wear and tear.
How To Pick A Detailer
Finding the right detailing location is key to getting a quality car cleaning. Check each businesses reviews to see what customers are saying, or ask friends who they might recommend. Price is often an important aspect, and you can expect to pay from $100 up to $500 or more for detailing, but try to opt for quality over savings, as this is an investment in your valuable vehicle! You can check to see if your car's dealership offers detailing options at a preferential price as well.
Easily find your next ride on Kijiji Autos
Search now